Joined

Nov 22, 2008
Messages

2,049
Reaction score

77
Hello everyone who loves TIBIA!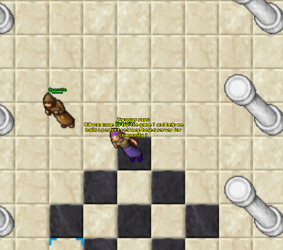 My name is Vanagas Lukas,

I been working on this awakening real map server for around past 3-4 months, I want to make a realy nice real map tibia project where everyone can have fun.

Please help me do it, all players opinions are GOLD worth for me.

Lets build together the server for worldwide community!

Abouts Resets ? I always hated the one thing about ots, its RESETS…So I want to avoid resets at all costs, my dream is to make long term server with will last 4ever, with no resets. But as I been working many years on ots, that's realy hard to archieve, but I will not surrender, I believe that's possible!

Im active alot so i will be always around!

I would like to invite you to my Awakening Real Map tibia project based on 8.60, but there is alot changes that brings the game more to 8.0 feeling, lets start...

Website:
Main page
Create account:Here
Ip: http://awakenot.com/
port:7171
Client:8.60 (Original client will crash alot server has lots of custom items and monsters, works good only with OTC client, you can download client at our site HERE)


Some features about the server:
8.60 Real map with quests and missions
Over 200 of custom items to be looted or crafted or bought in game.
All runes are not stackable
All potions is stackable
All world magic npc's sells runes 4x higher the price
All world magic npc's sells only small and strong potions ( Other higher lvl potions are only loot able or craftable)
All world npc's sells small and strong potions 3x higher the price
All grizly adams bosses are free to enter and those bosses spawns every 1 hour
All grizly adams bosses drops different tokens/items for craftings.
Over 30+ More stronger bosses to challange (Most of them requires team)
Pz protection area is only Depots and Temples ( Boats, carpets is not protection zone)
Mages spells (exori vis, exori mort, exori frigo, and so on) shots in front of you (8.0 based)
Custom lootings from players, if player has aol or blessings he does anyway drop tokens if player kills it, higher level more drops of different tokens. (Example, if you kill 20 lvl you will find Skull token in body with you can sell at Ruby shop at thais.
NO GUILD WAR SYSTEMS( BLOCKED)
Experience by killing players
Free Blessing till lvl 21
Benefits of solving quest
Rarity items system ( example: you can loot a stronger spike sword, or more def armor etc and so on..)
Training monks(To enter must complete The desert quest)
Rates:
Skilling; 8x
Magic; 5x
Lootin; 3x

Experience Rates:

1 - 20 level, 8x exp
21 - 40 level, 7x exp
41 - 60 level, 5x exp
61 - 80 level, 4x exp
81 -100 level, 3x exp
101 - 120 level, 2x exp
121 – 140 level, 1.5x exp
141 – 180 level, 1x exp
181 – xxx level, 0.8x exp

Extras:
Main city is Thais, you will login here (For today, open for opinions)
Thais ship is blocked till first completion of desert quest.
Starting Level 8
Rookgaard system:OFF

Basicaly on every server part, your opinion is very gratefull, thanks in advance!

Sorry for broken english in case <3
If there is any english mistakes please tell me il be happy to fix my flaws
Lil update
Removed from thais city training monks
Fixed some map bugs
Implemented/added in map some new spawns (thais,carlin,POH)
Fixed issue about casting premium spells
Lil update again again
Check whats new on our site news
Tibia is a free massive multiplayer online role playing game (MMORPG).
www.awakenot.com
up
Last edited by a moderator: