Joined

Dec 24, 2020
Messages

158
Reaction score

488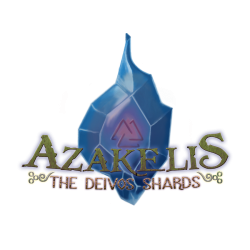 "Many gathered before the great adversary of the Setters homeland...many fought with every ounce of bravery and will...but almost all fell to the scourge.
The throne was lost, its kings and queens forsaken from the light within them. There was nothing for the Humans, Dwarves, and Elves of Nelja'Eva to fight for on the eve of the Cataract. All they could do was run..."

"And run they did, fleeing across the sea on a single ark until they struck a wild and ravaged land, with no way back. Greeted by a myriad of animalia reminiscent of their past, and a powerful but calm race called Vampires―the Setters would have to stand their ground for survival on this new land...
...But everything changed when the Setters discovered the forerunner ruins, revealing the existence of a fabled land where no pain exists. They were bestowed the possibility of psuedo-immortality through guardian spirits called Daimon, and thus rose a new era of power, decades of the Setters building on a land they knew very little of.
All were ignorant to the Oracles that escaped the depths of the backwoods and mountain caves...the Elders chanting reign of fire. Not a soul knew that they had awakened...

''The Deivos Shards''

"A trinity of elemental spirits guide the Setters to a vision of eternal life, though the weaning peace between them trembles under the fear of what is coming. The evil creatures known as Drakons are descending into the world, and not even the powerful native Vampires can safeguard the land from the approaching storm...
As the race to the Meridian begins, you must seek the true nature of your Daimon's light in the dark and find a way to the endlessness. But remember...every choice made impacts the future of…
''Azakelis''
༻——————————————༺
Pick between Dwarf, Elf, or Human and write your tale of fame or infamy.
With a large score of branching spells and skills, thousands of items to loot and discover—there are dozens of classes to master on the journey to find the elder lands.
༻——————————————༺
Join one of three rivaling factions on the verge of war to find and control the Deivos Shards.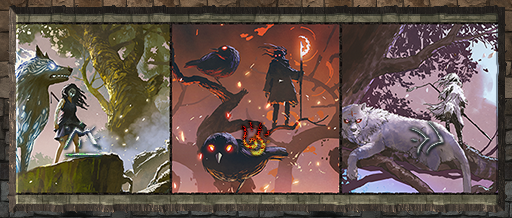 Extracting the anima from these fabled relics can draw the power to shatter the barrier between all known realms. Some want unity…others want chaos.
༻——————————————༺
Explore a massive open world spanning hundreds of miles, rich with deep lore and hidden quests around every corner.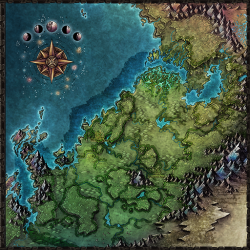 (Yes, this is a poor job of a minimap image overlayed on top of the illustrated map)
Featuring a living world with no two same characters, every Setter of Azakelis has a story to tell through generations of fear ingrained by witches and demons, and many tell of fallen legends.
Discover the true origins of your spirit guide through a cinematic storyline that has numerous approaches and two vastly different impacts on the world.
Archaic texts and unique relics hide secrets that can give any Faction an edge in the race to the Meridian…but are safeguarded by the ancients stirring in their tombs.
With endless hours of hand-crafted quests found by talking to the Setters, pillaging a countryside cottage, or by simply stumbling through a witch's illusion; there is a different story for every type of adventurer. As darkness falls…more fiends rise.
༻——————————————༺​

Key Features:

- Cinematic soundtrack, including ambient tracks, sound effects, and more.

- Key NPCs and Main quests will feature fully acted voice lines, rest have varied "default" lines.

- Create you: Initial character creation will feature the choice between 3 races, 2 genders, and multiple options of headpieces, hair styles, facial hair, top, back, gloves, pants, and boots. You then start at one of two starting towns of your choice depending on if you want to lean towards the darker side of playing, or the rightful side.

- No-Classes; Alignment; and Factions: Players get to mold their own character following different sets of skill and ability trees, and have an alignment meter (Pariah-Setter-Archivist [Dark-Neutral-Light]). Alignment affects certain NPC interactions and also triggers other hidden game conditions not to be spoiled (sorry). Players then get the option to join one of 3 factions (names TBA): ~ Nature and Protection ~ Fire and Manipulation ~ Air and Silence [Faction skills follow an 'elemental bonus/resistance to damage wheel']

- Open PvP after level 7. End of story.

- Height Advantage and Multi-floor targeting for more combat depth and realistic war scenarios

- Pseudo-Immortality and your Daimon: Every player starts with a "spirit guide" that is viewable to everyone in the world. This little entity that flies next to you changes appearance based on alignment, and will glow certain colors to warn you of danger. They can learn more abilities and skills, and can also be customized to fit your style. These entities are also responsible for your ability to die and be reconstructed, but with a twist: Your Daimon will stay in front of your "downed life force" to await another Daimon's assistance in resurrecting you within a time limit before your body is sent back to your "Well of Creation." Players in their "downed" state get to control their Daimon to float around freely for 2 minutes, where you can sign (emote) other players to come help revive you. This ability will have a cooldown. And players who go down and have a heavy alignment weight on either dark or light side...something else can happen. (No, it's not "you can appear in Heaven or Hell and have a chance to unlock unique quests, meet new NPCs, and find new items...it's going to be that, but much better, and much more unique)

- A True Living World: Every town, every city--every inch of Azakelis overall is the home to many unique NPCs. Every NPC has a name, no two NPCs are the same. Most of them have a story, and certain ones are attackable. You can even steal from their houses while they're at the shop during the day, or while they sleep at night if you dare. Just make sure you don't wake one that happens to not be human, dwarf, or elf. Be it a vampire, you'll wish the guards were coming to throw you in prison.

- Darkness Falls: There will be no ambience light slider, as vibes are important to set any mood, thus we will feature a "True Dark" system. Our game's almost pitch black night time/undergrounds will hide player/creature names from sight and will only be revealed in the light, or using abilities/with the help of passives. You'll never know what the darkness is hiding, especially as it creeps over the sea to consume the land.​
༻——————————————༺
~Bestiary~
(coming soon)
༻——————————————༺
Projected First test:
Fall 2022
Releasing on Multiplatform
(Windows, Mac, iOS, Android, Stadia, Nintendo Switch, with Xbox, PS, and more following)
by REIGNCITY S
TUDIOS
A lot more Info and Key Feature drops soon.
If Skyrim/Breath of the Wild/The Witcher were to have a baby and gave birth in sprite art with its roots in Tibia, what features would you want to see focused on?
​
Last edited: