Joined

Dec 2, 2014
Messages

50
Best answers

0
Reaction score

128
Hey, guys! You probably don't know me, but I know many of you! And I'm pretty sure you have already seen some of my work. That's because I've been working with pixel art for the last 6 years and though all my sprites were made for exclusive use, I've seen it everywhere (I really mean it). I worked for Pokexgames for something like 2/3 years, untill Grand Line Adventures team asked me if it was possible to do some kind of animations. And so I did. By that time I made the very first animations for GLA and since that I've been working with them.
Well, that was some of my backstory so you can know me better.
Now, for the first content I'm about to show you, I chose some jungle sprites. Made it 2 years ago for GLA.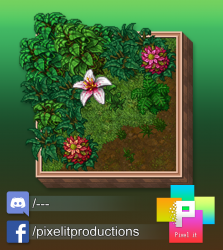 I don't know if I can use that facebook stuff overthere. I'll wait for you to tell me.
And if there's no problem, I'll be habby to have you there. I have just started it.
For now, that's it!
See you.