Joined

Oct 28, 2007
Messages

87
Best answers

0
Reaction score

6
Hi fellow OT-ers,
Recently I have gotten my interest back in OT after many years. I started Tibia and OT in honestly I don't know what version.
I remember Bubble (Antica) was level 170ish and the OT community was relying on tibia.de? Sorry my memory has faded.
I was thinking to create one last OT created by a couple of old timers. I realise at our age we don't have many hours a day
available like we used to; we have jobs, families etc. I am looking for people who have a couple hours a week to spend.
Let me try to entertain you with my
vision/goals of the server
:
- Client version 7.6 or: (7.4-8.0)
- Moderate leveling (1,5x-2,5x) to avoid level 800s, rather encourage players to not only grind but to investigate in puzzling
quests with important rewards.
- Let players skill up by training with a dagger, wooden shield, a fishing rod and a couple of rats (encourages players to find
training partners and interact)
- A few lively cities, rather than 10 cities where half of them are completely deserted. (ex. starting with 2 cities, adding
more cities through updates if popularity requires or otherwise just add areas and quests)
- Quests not solely based on defeating a few monsters, but adding lore based riddles and mysteries. (not that hard scipting wise)
- Creating myths like "Sword of Fury" in Rookgaard, but in this case solvable but very hard
- Similarities with vanilla Tibia (mostly map and quests wise) creating Deja Vu moments, however taking the good parts and
improving on them.
- Investing in creating a RPG server rather than solely grinding (ex. team quests, events, puzzling quests that are crucial)
- Adding humor to NPCs and quests through; real life references or strange behaviour (stupid example; resemble the Tibian king
'Tibianus' with Donald Trump by 'Tibianus' saying: "Make Tibia great again") or having the local priest having a torture room.
- As before mentioned create a populated server, not crowded though. When hunting in a cave the player shouldn't be overrun by
other players, but also not hunt for 3 hours without seeing any other player. Creating a balance is the goal.
None of these goals have been set in stone. The idea of this OT is to make it a team effort and ideas or alterations are
encouraged. Everyone joining the project will have a say in the development and course of the project. I can't wait to hear your
views.
As you can see making money is not one of my personal goals, but that doesn't mean I'm not open for suggestions.
Development
Two weeks ago I just started creating a new map. One thing I immideatily noticed is my increased speed comparing to 10 years ago.
just in a couple of days I created this Rookgaard (half way finished):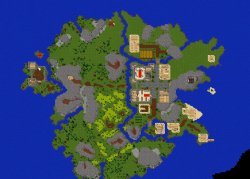 Let's talk about available
positions
:
- Mapping
Noticing the speed I'm mapping at currently. I can have a first version (rookgaard + main 2 cities and areas) ready around
february 2020. That being said, help is always welcome so I can focus on other parts of the server aswel. Even better is a
a (co) leader of the mapping project. Requirements of the mapper:
- Creating a map in the style of vanilla Tibia
- Respecting Knightmare's style of vanilla Tibia
- Details are great, but more focus on gameplay and lore
- Mapping and thinking of puzzling quests
- Creative thinkers
Creative thinkers to create lore and quests are more than welcome to add depth to the server. Important is to combine this
creativeness with implementation to the server.
- Scripters
personally I am capable of scripting, but a hand in this is more than welcome.
- Tech genius
As I remember in the past. This certain skill set is a breaking point in the development of OTS. I must admit I'm not a
genius in this specific skill set, but I am dedicated to learn as I'm switching into IT careerwise. I am not looking for a
guy to fix all this stuff for the server, but someone to teach me. However I am not looking for someone to explain everything
to me, but someone who will show me the right tutorials so I can learn on my own.
- Server side and or web developers