Joined

Apr 9, 2018
Messages

175
Best answers

2
Reaction score

514
Hey,
If you didn't know, OTClientV8 is now available for free to everyone. You can get it from
OTCv8/otclientv8 (https://github.com/OTCv8/otclientv8)
I've been working on it since march 2019, spent almost 1000h and created an amazing client.
By now it has been used by over 6000 unique players, you can check some stats on:
OTClientV8 users (http://************/clients.php)

Features:
Rewritten and optimized rendering (60 fps on 11 years old computer)
Better DirectX9 and DirectX11 support
Adaptive rendering (automated graphics optimizations)
Rewritten light rendering
Rewritten path finding and auto walking
Rewritten walking system
HTTP lua API with JSON support
Auto updater
New filesystem
File encryption and compression
Automatic diagnostic system
Refreshed interface
New crash and error handler
New HTTP login protocol
Ingame shop and news
Updated hotkey manager
Updated and optimized battle list
Crosshair, floor fading, extra health/mana bars and panels
Removed a lot of useless and outdated things
Support for proxies to lower latency and protect against DDoS (extra paid option)
And hundreds of smaller features, optimizations and bug fixes!
And what's more important - it's fast. Really fast, faster than original cipsoft client. I was testing it on oldest computer I found, stuff from 2008 without gpu. It was able to keep 40 fps even when there's a lot of action around!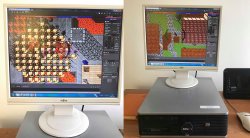 Last edited: