Hello guys! Im here to show you my project, that has been in development for many years, and after a success beta, we know what to fix, what to improve, what to change, etc...
This game is based in rebirth system, wich at certain level, you can rebirth and become a level 8 again, however, you keep your skills and magic level from before. Aditionaly, through out the world, there are several chests that holds mana and hp, wich will stay with you forever, even if you do rebirth.
With each rebirth, you unlock new features, such as spells, new hunting zones, new items, new functions in the game, new events, etc! Its the way to keep advancing in the story and keep getting stronger!This game is currently in spanish and english, however we are working hard to get it multi-language, so at the beginning of the game you can choose the language and the whole game changes languages, not only configurations and basic words.
With a complete new graphic interface, unique systems, unique sprites, i present to you Phoenix Legacy.
Story:
3000 Thousand years ago, the world was dark and savage. Beasts everywhere, life was impossible for any peaceful living being.
But it all changed suddenly, when the world was illuminated by a glorious and holy Phoenix called "Garuda".
This Holy phoenix came to the world to clense out the evil and bring peace to all living creatures. This enlightment period was called "The enlightment".
Many years went by and peaceful living creatures found peace, and started to grow communities and later cities...the population growth, however, also evil growth among man.
An unknown man, with his greed and lack of morals, wanted the power of Garuda of rebirth to humanity, so humans can re-live after dying.
In his sleep, this man cut one of his feathers and cast a powerful enchantation on it so he, and all humanity could use this phoenix power!
Garuda, hurted by humanity's betrayal, flew far away, to unknown lands, away from every human and in company of animals. With his presence, he blessed the animals around him with incredible strenght, making them his loyal protectors. On the other hand, with him leaving, the world of humans became darker once again and many dark creatures flooded the land.
Despite human's betrayal, he gave humanity one more oportunity to be blessed by his divinity, and created followers, that will ask every brave adventure to perform incredibly difficult tasks, to prove the determination of making peace with Garuda.
Whoever passes all these tests and reaches Garuda, will give humanity the protection of Garuda once more!
In-Game pictures: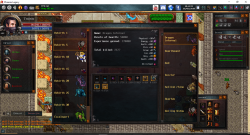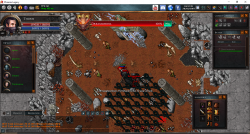 We have an amazing upgrade system, wich lets you level up your outfit and mount to get higher attributes! The items to give them experience are obtained by killing bosses.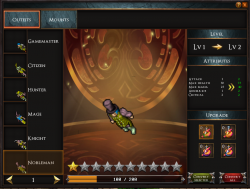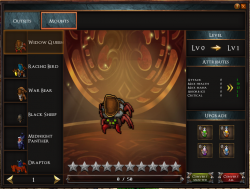 Also we have an amazing system called "Global boss", where you can fight a random boss every day at a certain time, will give give all participant amazing prizes sent to depot! Here you can check a fight agains "Dreamghoul", the god of darkness.
This game is currently in development, however it was online for a year, where we applied a lot of new content and fixed many things.
For personal issues, we had to put the game to rest during a couple of months now, so it's offline, but in continue development.
So the purpose of this thread is to gather suggestions from you guys! I wanna make an incredible game with the help of all of you! So we all can enjoy this! Please tell us what you think!!
I also want to invite you to like out facebook site and join our discord !
You can also check some amazing videos of the in-game content in our youtube channel!
Facebook Phoenix Legacy
Discord server
Youtube Channel
Finally i wanna thank the otland community, specially support staff, wich have helped me during all these years, and ofc to my constant programmers.