Joined

Nov 6, 2012
Messages

100
Reaction score

0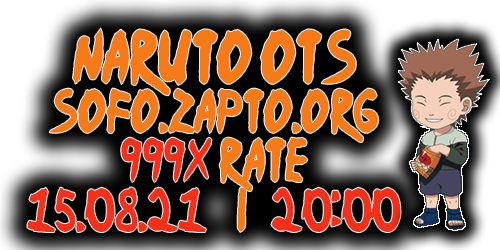 ​
PAGE:
News - SOFO (http://94.23.91.14/news.php)
FORUM:
SoFo (http://sofo.forumpl.net)
Don't you like boring, slowly increasing your level? This SOFO is for you! Level up, climb up and set off to conquer the server! A lot of quests, sagas, hunting grounds, missions, transformations, spells and many other things are waiting for you. Do not get chased away in the top and show that you are someone, but do not fall into routine because life is not only about hunting but also about PVP and participating in various games / competitions in the game!
Shinobi of Fight online
Website:
News - SOFO (http://94.23.91.14/news.php)
RATE:999x [stages] | lot: x5 | skill: x5
Client: 8.54 | port: 7171 (Naruto ots)
Map: custom
Server type: pvp
Uptime: 24/7
Start: 15.08.2021 | H:20:00
What we can find on SOFO:
27 profession [the two professions are from the quest and the saga]
14 transforms [4 on quest]
Fast dynamic game
System bijuu
Unique talent system
Missions
Above 100 sag
BosS [Drop unique items]
A lot exp place
A lot quests
Big maps
Jackpot
Big exp rate
Happy hours exp event
Trening attack speed
Quests on transforms and spells
Interesing drop in mob
Rewards for lvl up
Lottery system
Frequent eventy/konkursy
And many other things! Get in the game and start your adventure ..
... WELCOME TO THE GAME!
__________________________________________________ ________________
For an hour 20:00 | 15.08 to 20:00 | 17.08.21r
players with TOP 3 in skills:
LVL, GLOVE, SWORD, DISTANCE, ATTACK SPEED
WINS:
Top 1: 100 premium points
Top 2: 70 premium points
Top 3: 35 premium points
__________________________________________________ ________________​