Joined

Nov 12, 2020
Messages

1
Reaction score

1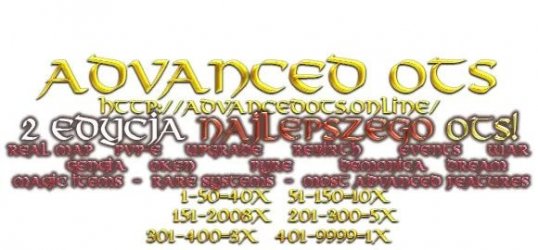 Welcome to the second edition of AdvancedOTS The most extensive server in Poland!
On this occasion, we would like to inform you about the changes that appear in this installment:
1. Exp Stage - Reduced | Magic Level and Skill rate remain unchanged - Full information can be found in "server info"
2. Full profession rebalance
3. Regeneration MP / HP - All Fluids + 33% UP Max 10,400MP 10,800HP
4. Lowered Exhaust
5. New events have been added
6. New areas have been added
How to start a Game?
1.
Create a character, gain experience and equipment
2.
Start performing "TASKS", you will receive, among other things, "SERVER TOKEN", the most important currency in the game!
3.
Start developing your equipment, collect magic stones and boost your stats
4. Plan for further development, think about rebirth
5.
Discover the secrets of AdvancedOTS, share them on our forum and social media! Remember our Discord!
You can find all the information in the page navigator and in the posts below!
[/CENTER]
FACEBOOK FANPAGE :
Advanced.ots. 273 likes. Strona poświęcona serwerowi advancedots.online/. Dzialamy na kliencie 8.6 , system rebornow , unstable potion itp . Zachecam =]
www.facebook.com
FACEBOOK GROUP :
advancedots.online has 116 members. vancedots.online > Best Global / RL Map 8.6 > New Islands, Spawna i Advanced Quests! > Reborn system > Dream island > Gem's Upgrade > Unique Systems > Balanced...
www.facebook.com
PAGE :
DISCORD :
Join the ADVANCEDOTS.ONLINE 8.6 RL MAP Discord Server! (https://discord.gg/qV9PvE7Y)
Last edited: