Joined

Jul 3, 2009
Messages

1,595
Reaction score

207
Location
Greetings, old fellows,
like a year or so ago I thought an interesting idea while just doing my casual irl business. Maybe I should go and play the real tibia on my little after work free evenings. And yeah that was a great idea which let me felt that I am a kid who yesterday was skinning a minotaur leather for a half of his day and preying to see The Horned Fox to loot the precious and the only one Nose Ring! Few months ago I thought maybe I should start to do something with open tibia again as well, huh? Yes. No doubt I found the best thing to spend my evenings and even I can't sleep sometimes how much I want to develop my new very niche project. Original Cipsoft Tibia 7.8. Because this is the days where I remember my Tibia and my Retro feelings cause' in 7.4~ I remember myself as a noob killing trolls for the months and left Rookgard at level 11.
Ok, ok, so about the project. Sabrehaven I already see as a very interesting and promising project which Open Tibia haven't seen so detail wise when speaking about 7.8 real tibia projects.
Lil' list of Sabrehaven Aces:
Server is based on the newest TFS distribution and I'm always updating relevant things to my branch.
Most of the resources are Original (the hacked ones). For ex, Sabrehaven is using the original 7.72 map with its scripting, original Cipsoft based NPCs system, original items system and original monsters from 7.72 times. Basically all the best goods which Dennis gave us. Also, no doubt that many of the good things were taken from Ezz Nostalrius distro. Applause's for them please.
Sabrehaven has very nicely map-tracked Liberty Bay map with all of its shattered isles which was a little challenging to import in to the Cipsoft original map.
Everything is properly downgraded to 7.8 protocol and all the 7.8 protocol related features works on its finest. Of course, I couldn't say that the mechanics are so well developed as in a neighborhood Tibiantis project which I do follow a lot .
Most of the 7.8 related NPCs, items, monsters and quests are already implemented however still quite much to go.
Details even if them are lil' ones, map is detailed with shop signs and lil' monster spawns like carrion worms and etc. All of the heart touching items will be never missed. Yes, you will whistle a wolf with your wooden whistle and feel free to open Tibia rum distilling business.
Some of the Sabrehaven in-game feelings: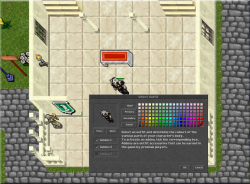 do your outfit lit!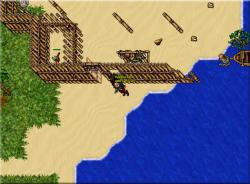 sabrehaven dream house isin't it?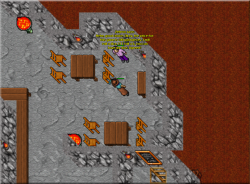 get a dice to roll a dice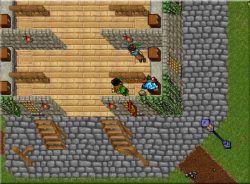 Vapsva rolled a 3!! Maybe you can see me rolling sometimes in CipSoft Tibia.com Thais DP
will it really raise my accuracy miss Elane?



this is how it looks in map editor.
​
For discussion:
I think that speaking about server rates or when we could see the possible beta launch is too early to speak. However, I don't see Sabrehaven as a 1x original server. I think the rates would be from medium to low since the 7.8 has a lot of space for fun PvP and grinding your outfit for final Ferumbras' Hat while still bringing you all the best retro memories.
All the ideas and offers are very welcome to see!