Joined

Dec 23, 2014
Messages

2,285
Solutions

68
Reaction score

933
This is a rough one. So I used TFS 1.4.2 and added any commits that would work for tibia 10.98 from the 1.5+ TFS commits. After I added everything I was able to start the server and I was working on figuring out a problem with the map being drawn correctly in the client.
I woke up this morning and when I try to open the server it closes at this point:
Lua:
>> Loading config
>> Loading RSA key
>> Establishing database connection... MySQL 10.5.5
>> Running database manager
>> Loading vocations
>> Loading items
>> Loading script systems
>> Using LuaJIT 2.0.5
>> Loading lua libs
I didn't create a backup because I don't remember changing anything once I was done adding all the commits.
I added some prints to a bunch of files to see what might be happening.
Once data/actions/lib/actions.lua was loaded it got stuck in a loop and crashes.
I tried replacing that file and looking through it for any problems.
I think it could be whatever the next file it is trying to load. Is there a way to know what the order is that it will load libs. I noticed it loads some files in:
data/lib/core first then goes to actions and other places. It seems somewhat random but there should be a set way files are loaded.
I know this is one of those things that it will probably be impossible to determine but if anyone has any info that might be useful please share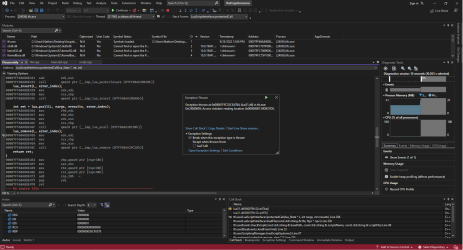 Last edited: