Ravendawn.Online | ArchlightOnline.com
Premium User
Joined

Jun 29, 2009
Messages

4,353
Reaction score

1,646
Location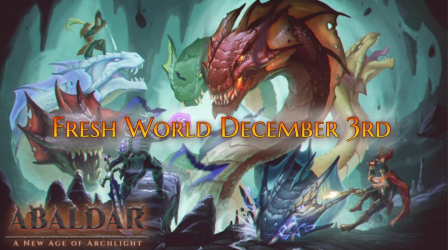 Launching December 3rd, 9:00am Pacific Time, 14:00 Brasilia Time, 18:00 CET
Character Creation is Now Open Click Here
Over the last couple years, we have received increased requests of a server without heirlooms, and overall just a completely fresh server on an even playing field. This has been one of the #1 requests from new players, as joining a 4, or 6 year old world, that has players with years of passive character bonuses can make starting Archlight not only daunting, but near impossible to competitively engage in that world. This has been something very offputting for the new player community of Archlight, and has hurt bringing in a new growing population like we did in Dracona's initial release.
Passive bonuses and the snowball effect of returning heirlooms we're one of the largest concerns and pieces of feedback we received not only from new players, but much of the current community, we cannot simply remove them from Dracona or Ildar, but agree this is a massive gate from new players joining the Archlight community. Because of this, a new age of Archlight is coming.
Abaldar will be a new completely fresh start world releasing on December 3rd. Abaldar will have quite a significant twist though, no outfit, mount, or any cosmetic on Abaldar will have a passive bonus to it. The intent of Abaldar is to allow a much more competitive playing field, one that a new or returning Archlight players do not have an immediate disadvantage.
With this, Dracona and Ildar will be merging for their next season to form a Legacy Server between the two. This will be in the future for the next expansion we release. We don't have a specific date yet but with the longevity expected for Abaldar being a fresh server (where progression is much slower) we are expecting sometime Q2 of 2022.
We're also making sure Abaldar is worth experiencing whether you are a new player, returning, or a long time veteran. All Dracona & Ildar players will be able to link their new Abaldar account with BOTH their Dracona & Ildar accounts. Simply by playing Abaldar you will receive a whole stack of rewards on your Ildar & Dracona accounts as well. The following are a list of rewards you can receive from progressing in Abaldar's new world, these are not races, and can be acquired anytime by anyone.
Rewards received on your Dracona/Ildar account by progressing on Abaldar
Reach Awakening - T6 Chicken Mount​

150 Achievement Points - 10 Living Archlight Tokens (20 Total!)​

300 Achivement Points - 15 Living Archlight Tokens (30 Total!)​

Slay Hades - 20 Living Archlight Tokens (40 Total!)​

Slay the Hydra - T6 Purple Swords Aura​
Additionally, any donation you make on Abaldar will come with a voucher that you can redeem on your Ildar or Dracona account for the exact same donation on either account, doubling any donation you make on Abaldar to your other account!

New Biome Effects


New Cutscene System


Progression Changes for Abaldar​
Monster Essences will now respect the custom experience a creature has, manipulating the value of said Monster Essence.​

Rift's Monsters have had their experience increased by 15% increments based on their power tier.​

Dungeon Experience has been reduced in various stages, to compensate it, their rewards have been increased by the same percent.​

Rift Tasks will now reward with 3 Awakening Experience Wands.​

Big Game Tasker's tasks will now yield a significant amount of awakening experience to help players in the initial awakening levels.​

Wargates have had a small experience threshold applied.​
Rei Dos Coins
We are once again after a couple years offering support for Rei Dos Coins, we have been able to negotiate a much better rate with them (1/4th the fee) and are now able to offer another donation method at the same rate as Pagseguro. Rei Dos Coins allows for paying with Crypto, Tibia Coins and a dozen more options.
New Content For Abaldar (Not enough room to post all on this thread, please check our landing page to see everything as this is just a fraction!)
https://archlightonline.com/abaldar/en/index.html
New Multi-Floor Epic Synchronous End-Game Boss Fight.
6 Unique Boss Heads, with over 15 Unique Spells and Mechanics.
This boss fight is meant to be incredibly challenging, not only strength but mechanic and strategy wise.
Exceptionally Unique New Endgame Rewards, Nothing Repetitive or In-Game Already.
New Tier of Very Powerful Endgame Weapons added.
These Olympus Weapons are hard to obtain, and will require completing a long quest chain from a respective Olympus God, the quest chain and way to obtain your weapon/weapons based on which weapon involved, majority having their own unique quest chain.
Prisons
Prisons are a new entirely modular procedurally generated system coming to Abaldar, with over 40,000 different prisons you could enter, each prison will be a unique experience for the player or party.
Prisons include random puzzles, random mechanics, random perks, spells, bosses, every run will be a unique experience.
Over 55 New Prison Creatures
4 New Bosses
18 New Boss & Creature Mechanics & Spells
Prisons can be challenged solo or in a party​