Joined

May 10, 2013
Messages

127
Solutions

3
Reaction score

101
IP:
login.vinera-global.com
Website:
Port:
7171
Clients:
12.64, 10.00, OTClientv8 and Android.
Official discord:
Check out the Vinera-Global community on Discord - hang out with 38 other members and enjoy free voice and text chat.
discord.gg

Hosted in USA with a future proxy system for Brazil and Europe.​
Hello, if you are here, maybe you got attracted by our title, that's our concept and our goal: be something like Shadowcores was in the past, a real, complete and stable real server. We've about 3 years developing this server so far.

We've been also inspired by many other projects on OTLand as Taleon, Masteria and Gunzodus, done by good programmers and by passionate teams, our plan is to surpass those, being one of the most complete vanilla cipsoft servers to give a feeling of how Shadowcores was in the past and also contributing back to the community as we have been doing so far on OTBR. Our gameplay also would be tied to complete all quests and you would be doing on Vanilla Tibia, we're currently planning to add a quest bypass on low level quests after our testserver phrase ends, so few boring quests would be autocompleted just leveling.​
Images about our project​
Lion Bastion Quest - All mechanics, questline and every feature that has been seen on that area.
Soul War Quest
Claustrophobic Inferno, Rotten Wasteland, Mirrored Nightmare, Ebb and Flow and also Furious Crater, including all room mechanics, bosses and the taints of the original quest line, we got all. If you have seen those maps out there,
we released part of them buddy.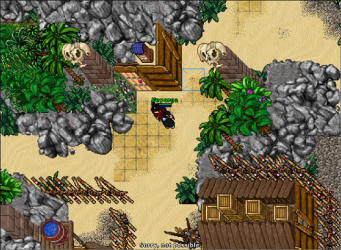 Rascacoon map, we have it here and we are also developing the questline for this area.​
You have seen our images, ok, but what we have so far?​
80% of all of the Tibia content (quests, mechanics, signs, maps and books). That includes:
Soul War Quest, we are one of the very first servers having the complete, accurate and real content using formulas from vanilla Tibia, as monsters, spell formulas, mechanics and content.
Feaster of Souls Quest.
Lion Bastion Quest
Kilmaresh Quest
Heart of destruction Quest
Grimvale Quest (The Curse Spreads, etc).
Threatened Dreams Quest
And about 90% of all quests on realtibia (outfit, addons, etc)

And so on, it's also worth mentioning that we are a perfectionist team so even positions, effects, dialogs that we have seen or even experimented on recordings are also here on our project, we have characters on vanilla tibia and if needed we can take always the content, books and else back.

We have also some coupe extra custom systems, as:​
A new kind of autoloot system using the quicklooting functionality (It means that it works with the backpack sorting and everything needed to loot all).​

Antirollback, we are currently using the system that has been posted here on OTLand.​

For now we are sticking with the old utamo vita (Thing that can be changed anytime just changing a variable on our config.lua)​

We have also an automatic backup system that executes daily, so all information is always being exported into an external host, we want to avoid any data loss in case that our hosting provider crashes.​
And some small ones that are worth that you notice them by yourself.
​
What you can expect from us?​
Starting today, we're starting a public testserver that has rewards just for playing it (being the top level or just reporting a small bug) where we are going to launch an aggresive marketing campaign finishing at May 23. After that we plan to launch a OTServlist.org countdown and finally, our official release.

If you also read everything up to this point, we want to tell you that we are going to release all of our server assets soon as our goal is complete, it means that soon as we have a stable base and all quests working up to date, you will see this server posted here on OTLand, but for the meanwhile, we are going to contribute back any kind of critical bug on server or source aside few code improvements soon as we have them on our hand.​
Last edited: