Joined

Apr 1, 2009
Messages

393
Solutions

4
Reaction score

191
We have been working on a huge update to this server over the last year and its back for another season bigger and better then ever!



The server is hosted on the US West Coast



Whats new in Nutopia 2.0?

Raid 4
Ingame crafting to bridge the gaps between early-mid-late game
Raid buffs that are gained at random when entering a raid
17 Fully custom quests with mechanics and unique puzzels
Teired tools that give better yeild on gathering professions
Ingame highscores in the spawn room so you can flex
Tasks are now auto started and stack, no need to manally pick one
Fishing on steroids, its very differnt now and can be done automatically
Our own custom client with alot of modifications such as rarity item colours, ingame guides & tools
Modifications to the Dis-Enchanting skill with a more scalable reward based on level.
Backpacks are now enchantable
All weapon types are counted as melle now (can use axe/club/sword)
Non-pw2 shop to help with server costs
A hidden suprise feature Connection Information Nutopia Website Server Wiki Old Old Advertisement Thread Old Advertisement Thread

​
Exp Rate = 4
Skill Rate = 5
Magic Rate = 4
Loot Rate = 3
Account creation will open and the client will be posted in the discord and website at the time of release.
Whats is the sales pitch of Nutopia?
Nutopia is a low rate RPG that adds easy to understand but difficult to master systems around the basic original design philosphy of tibia. The core loop of hunt, get better rewards, do quests and explore still exsists but with an added layer of depth to support the original vision of tibia. The map is 100% custom and not seen anywhere else so exploration is a huge part for a new player.
What is Nutopia?
Nutopia is a server that i have been working on for a total of 4 years now, the map has been in development on and off for about 10 years. Nutopia is a low rate 4x custom RPG server. I felt that my home country (Australia) was lacking a decent custom OT and set out to make one. I started out on my own and after two years had another two people joined my project. Im old school and believe in the values that made OT's popular in the first place. A fun no bullshit MTX server thats custom and was built for fun and thats exactly how i designed the server to be.
How do the seasons work?
Their is no given time frame for each season its just once the server dies/starts to wind down to small numbers do we wipe the server with a massive update. Currently each season has lasted about 9-11 months and we are currently about to start the 5th season.
How is the server monetized?
I despise predetory PTW microtransations to my core, their will never for as long as i live be a way to convert irl $$ to EXP in game.
We do not sell "conviences" either. The first 3 years of the server had no cash shop and all and the server generated no income. I wasnt into making OT's for money but as a hobby that i enjoyed. The 5th season will have a extreamly minimlistic cosmetic cash shop to cover some server costs as ive paid out of my own pocket for 3 years now. All my current players can attest to how vocal and persisent i am on never letting any of that bullshit MTX touch my server. Im not in OT's for money.
What game mode is the server? PvP, PvE
The server is PvP ON by default however it can be toggled off/on with a command on a 2 day cooldown. However to keep things interesting we have made it so when ever you come within 100 squares of a world boss your PVP is forced on without option and only turns off after 3 minutes of leaving the 100 square radius or the boss dies, other scenarios force your PvP on and you are warned of this.
SERVER FEATURES

Mining
Around the map are nodes that spawn 6 different tiers of ore, they are harvested and used with creature products to add enhancment to weapons and armor through the smiting skill
Smithing
You combine harvest ores with flux and creature products to create enchantments to gear.
Farming
Similar to mining their are 6 tiers of plants out in the world, they can be harveted for raw plant materials and used in the alchmey skill. You also have a chance to aqquire a seed and those seeds can be planted in a player owned purchased plot to be grown and harvested (think harvest moon/stardew valley).
Alchemy
The plants you gather can be mixed with creature products to make 8 different types of potions at varying effectiveness.
Bosses/Outfits
Throughout the world are bosses placed deep into spawns, they are on varying re-spawn intervals from 2 hours to a few days. Their are a total of 32 bosses on the map. When killed they open a portal to claim an outfit specific to that boss. These bosses also have acess to rare loot tables.
Waypoints
The server uses a waypoint system. As you move further from the main city you can discovery a total of 12 encampments, once discovered you can unlock the waypoint and quick access that encampment later on.
Elite Monsters
Their is a 1 in 500 chance for a monster to spawn an elite version of itself with 3x HP and 3x Damage, once killed provided you are within the level range of the monster a "energetic bacpack" drops with access to unique and rare loot tables, the loot gets better depending on how strong the elite is.
Item Enchant System
Every item that a monster drops has a chance to either be a uncommon, rare, epic, legendary or artifact version of its self. Their are also gems evequivilent to those rarities that can be obtained from boss monsters/quest rewards. These gems can be used on an item to enchant it to one of the above mentioned rarities.
Item Crafting System
Ingame crafting was added to bridge the gaps between early-mid-late game, you can craft tiered harvesting tools or equipment and armor from around the world.​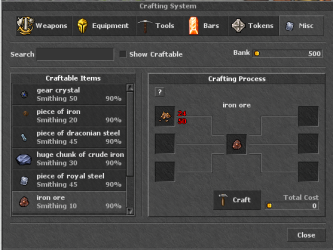 Quests
On the server their are unique and custom quests. We have a fully scripted boss enounter at the end of the servers main quest chain. It has proper boss mechanics that require coordination to complete. We intended to add more of this stuff this season.
Latest Content
We try to keep the server update with the latest tibia content by releasing new spawns, areas & items that are the most recent version of retail tibia.
Their are many other sub systems like the acheivement system, task system and the mount collection systems that people can engage in.
What is endgame?
The endgame of the server are raids (big dungeons). Their are a total of 4 raids in the game and can be accessed once every two days. You are given a 2 hour timer to get as fare as you can. The bosses in these raids drop the best items, offer the best mounts and outfits in the game. The raids are typical bosses you see in tibia but have unique abilitys. Below are some screenshots of players doing some of the raids.
What client are we using?
We are using our own custom client for season 5 with alot of modifications with bot protection. Theirs an ingame getting started guide, wiki and other useful tools. We also have coloured rarity items & our custom professions visible in the client,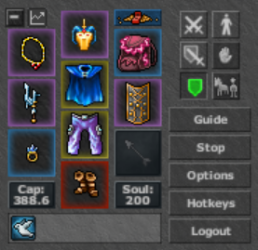 What about the map?
As mentioned above the map has been made 95% by myself and 5% from others over the course of 9 years. Some assets from other maps have been used and i have also made a considerable amount. Here is the minimap progression.
2011 version
2023 version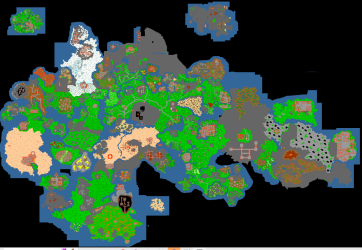 ​