Joined

Jul 4, 2010
Messages

25
Reaction score

23
Location
Hello everybody!
I'm glad to announce our launch day:
14 August at 17:00 GMT
You can already create your account here:
link
View attachment Launch-1.mp4
Description
​
Molten
is an OT Server created from the frustration, boredom, and inadequate management of other servers that I've played over the last years.
With a focus on lore and RPG, the objective is to create a new environment where you can have fun and excitement but keeping all the standard tibia mechanics with a new approach.
First, the map is custom, and in constant expansion, the stronger you get, new places to explore arises. Second, more than just endlessly walking to explore, the world has a history that directly influences the game setting.
The classical tibia mechanics remained the same (no new sprite and no new client). Still, we also added some new things, using things that Tibia doesn't take advantage of.
Custom Map (own maps + copies from other maps)
Custom Lore: the whole map is around lore created from zero. There is a lot to learn from books and NPCs around the map. Quests will explore this lore, and some will influence character construction and map itself
16 basic quests (initial items, INQ, POI ...)
6 advanced quests, spread around the map, with multiples puzzles, new mechanics, and different prizes (no items, but buffs, access to other hunts, etc..). Those quests are divided into missions, in which players will run across the map talking with NPCs and learning more about this new world.
Daily tasks/quests, with scalable difficulty, so the player will constantly be challenged.
3d vocation:

Each vocation has a promotion to two different classes. This will not bring any new spells (until now) but will improve your other spells and the path you want to follow in the game. (Details here)

New systems:

Attack speed increasing with your fist fighting
Loot rate increasing with your fishing fighting
104 core items to be crafted with different items.
Addon bonus per quantity, not for using (all addons are acquirable)
All damage formulas, spell formulas, monsters, items were written on excel for balancing purposes. Balancing was my first purpose here because bringing new systems would affect such PVE as PVP and market offers

All bestiary creatures will be re-utilized, trying at max to re utilize what tibia has available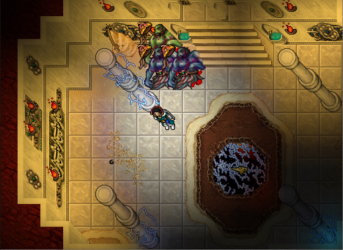 Server Info:
Client:
12.6
(trying always to follow new tibia updates) (no bots will be allowed)
Rates: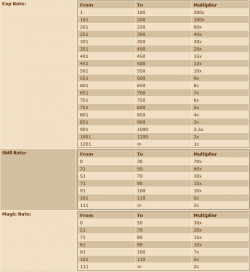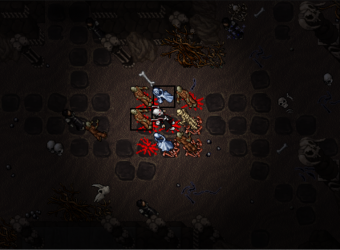 You can keep track on our updates at this topic or at our
development thread
Join us on
discord
!
See you in the game!
Crx​
Last edited: