Greetings all OTlanders
So.. latley i've been looking on some Spriting threads here in OTland and i got really inspired! I have never ever did something like this before but i have allways wanted to make my own cool sprites. So today i started to learn me how it works. Atleast a very little bit, just the basic stuff i guess. And so far i think its really funny to create sprites and i wanna learn me more about this!

Here is 2 weapons of my first work ever.


First
Crystal Sword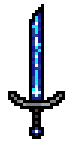 Second

Unholy Axe Unholy Axe with Animation




Im happy with my end result of both weapons. But the axe tho, i like it ALOT!
All criticism is allowed.
Stay safe & i hope y'all have a good evening!