Hi everyone!
I'd like to contribute all the Open Tibia the community with this project I've been working on for a while:
Opentibia.io is a new, smart and responsive open tibia server list. Find your perfect Open Tibia server and keep the 2019 swag.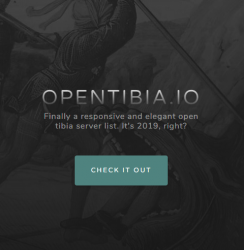 Basically it's a new alternative to publish your opentibia server or find your perfect fit with a very smart and simple search box.
You can actually search things like "poland pvp 8.6"
I developed this site from scratch using some cool Bootstrap features and the Laravel PHP Framework.
It's completely free and absolutely new (like there is just 1 OT published lol) but I hope it becomes a strong tool for every open tibia player and developer.
Kind regards!
pd. I'm not sure if i'm posting this in the right board. I'm not actually advertising any server. If any moderator wants to move this thread to another board, you are welcome.
Thank you!