In contribution to the community just as
@marek12
, the sprites posted on this topic will be free for everyone to use.
Keep in mind I am still learning and sprites will NOT be perfect, will appreciate any criticism that will help me improve.
Thanks in advance, Oneda.
First outfit I ever made, I do know the back and animations look kinda weird, I'll try and improve in the next ones.
ANIMATIONS (2 frames only for now):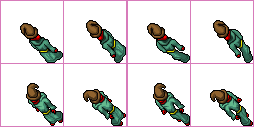 STANDING: