OT Monster Converter
OT Monster Converter is a tool for converting monster files between the various formats used by open tibia servers. Any supported input format can be converted to any supported output format. The program is flexible enough to allow the same input and output format which is helpful for keeping monster files standardized during server development. It's likely a large number of users will use this program to convert from TFS XML format to TFS RevScriptSys format. At this time, I strongly suggest the original TFS XML files be saved if you do the conversion in case there are more changes in the TFS RevScriptSys format.
The TibiaWiki format works by scaping the TibiaWiki website which takes about 20 minutes. To save users time and TibiaWiki bandwidth I will be maintaining a public github repository where I will periodically generate and commit TFS XML and TFS RevScriptSys monsters. The repository can be found at
GitHub - soul4soul/converted-tibiawiki-monster-data (https://github.com/soul4soul/converted-tibiawiki-monster-data)
. Due to the great work by the TibiaWiki admins and community and the new AbilityTemplates, the conversion from TibiaWiki works very well check out the converted
Dragon
. One of the best ways to further OT monster development is to help TibiaWiki update all monsters to use AbilityTemplates. Please don't abuse the TibiaWiki converter, information on TibiaWiki is not updated that often. Running the converter once a week is sufficient.
The converter reports warnings and errors for the parsing of the input format and conversion to output format. The detailed error reporting should help to identify short coming of the program that require manual user intervention. An example of a warning is include in the GUI pictured below.
Supported Formats
| | | |
| --- | --- | --- |
| Format | Supports Input | Supports Output |
| TFS XML | Yes | Yes |
| PyOT | No | Yes |
| TFS RevScriptSys | No | Yes |
| TibiaWiki | Yes | Yes |
| Cip Mon | Yes | No |
Note: otserverbr revscriptsys format has minor incompatibilities and is not supported at this time.
GUI
Sample image of the graphical user interface. The GUI is only available on windows.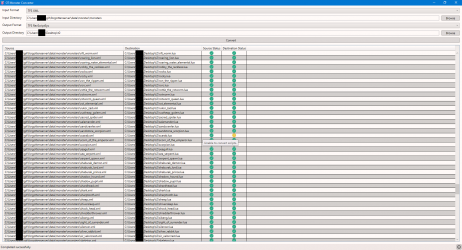 CLI
Bash:
PS C:\Users\...\Release> .\otmc.exe
OT Monster Converter:
Developed By Soul4Soul
Repository located at [URL="https://github.com/soul4soul/ot-monster-converter"]GitHub - soul4soul/ot-monster-converter: C# .NET 5 program for converting OpenTibia (OT) monsters between commonly used formats (https://github.com/soul4soul/ot-monster-converter)[/URL]

Usage: otmc [OPTIONS]+

Options:
  -i, --inputDirectory=VALUE The directory of monster files to parse.
  -o, --outputDirectory=VALUE
                             The output directory of the new monster files.
      --inputFormat=VALUE    The starting input monster file format.
      --outputFormat=VALUE   The desired monster file format.
      --otbPath=VALUE        The path to an otb file.
      --itemIdFormat=VALUE   Desired item id types used for the converted
                               monser loot.
  -m, --MirrorFolders        Mirror the folder structure of the input directory,
                                otherwise flat folder structure is output
  -h, --help                 show this message and exit

Input Formats: TibiaWiki, TFS XML, Cip Mon
Output Formats: TFS RevScriptSys, TibiaWiki, TFS XML, pyOT
Item Id Formats: KeepSourceIds, UseServerIds, UseClientIds
Source Code and Downloads
The program is so large because it's compiled with the .NET5 runtime embedded in the executable to make running it more convenient.
Precompiled binaries for Windows x64 platform are attached and can be downloaded from the github release here.
Source code is available on github at https://github.com/soul4soul/ot-monster-converter
Attachments
ot-monster-converter-4.0.0.zip
Last edited by a moderator: