Joined

Jan 5, 2013
Messages

9
Reaction score

0
Hello guys.
I have some problems with my TFS 0.4 8.7 server and would like help.
# 1 HEAL AND MANA VERY DISTANT
.
In the old versions of Tibia, when using Great Spririt Potion, life and mana appear very distant.
How i Change?
Well, this is not a bug, just a feature.

# 2 BUG OF LIGHT
When using a torch, the light appears on the character.
When I remove or extinguish the character's torch, the light stays on.
All type of light item: torch, magic lightwand, frozen starlight
This does not happen when using a light spell. (utevo lux, utevo gran lux, utevo vis lux.)

NOTE: Using mount(blazebringer, this bug don't happen.)

# 3 BAG FULL.
When my bag is full, but i've a groupable itens, i can't move up the same itens.
NOTE: i can move to my hand.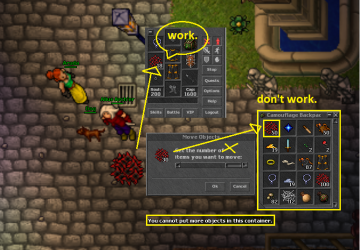 Thanks Everybody.
Rafael.