Joined

May 31, 2008
Messages

2,278
Best answers

0
Reaction score

30
The Definition of Open Tibia Server
IP:
Theotserver.com
Protocol/Client: 8.60
Port: 7171
Map: Custom, Roxor? you betcha.
Why playing tibia if there is a better tibia?
Theotserver is a nostalgic server, developed by Colandus, Tufte and Wezza. It is probably the most advanced server that is ever created, and we will try to sort out all the features in this post.
The Vocation-System:
Instead of having 4 vocations, where the Sorcerer and Druid is 95% equal, we have merged those two into 1 vocation,
the mage
. The knight has been changed into
a Warrior
, while the paladin remains the same. This doesn't sound very revolutionary, but the unique thing about our system, is the
Class-system
.
When you reach level 100, you will have to choose between 2 classes, depending on which vocation you are. Here is an overview of the different vocations, classes and promotions, and how it works.
Information about the different classes:
Sorcerer
Pure damage. Death and fire as its elements. No support spells. Most powerful vocation, but weak alone.
Druid
The support-class. Very few offensive spells, however, it has awesome healing abilities. It is the only vocation that can summon, and it can summon very strong elementals. Can go 100% invisible (for escapes and sneaks). Cannot use SDs, UE or other strong offensive attacks.
Warden
The strong paladin. Lots of health, but less mana. Can only use spears as a weapon. Main feature: the reflection-spell. When this spell is used, all damage dealt on the Warden, will be reflected in a % depending on his level.
Hunter
Using bows and arrows for attacks. Low health, much mana and very fast. It is very precise, and can use a camouflage-spell which makes him into a tree. Your characters name and hp-bar will disappear, so you are impossible to notice. However, if you move, your camouflage will disappear.
Conqueror
The aggressive warrior-class. Using two-handed weapons as its main attacking-force. Decent health, low mana but very fast. Can be compared to an Orc Berserker. Using an anger-system to gain extra power. You are gaining anger while taking damage. When you anger is full, you can unleash this into an anger-move. This will make you into a creature, depending on your level. You will now get more speed and higher melee-skills.
Guardian
The tank. Lots of health, but very low mana. It is the only class which can use shields stronger than wooden-shields. Using a one-handed weapon for melee-fighting. The Guardian is mainly for blocking.
Custom Spells

# Sorcerers
- Demonic Area, Death Flames
# Druids
- 100% Invisible against players, strong elemental-summons
# Warden
- Reflection (% of damage will be reflected to the attacker), Holy Death
# Hunter
- Camouflage (Will transform you into a tree, which means you are impossible to recognize in a forest) Holy Paralyze (will stun the target for 2 seconds)
# Conqueror
- Stay Away (Huge spell, like an exori just more complicated), Anger-System (Transforming into creatures with more skills and speed)
# Guardian
- Defendo (makes you untouchable for all PvP-attacks)
For spell-names, check the spell-book in-game or visit the website.
Map: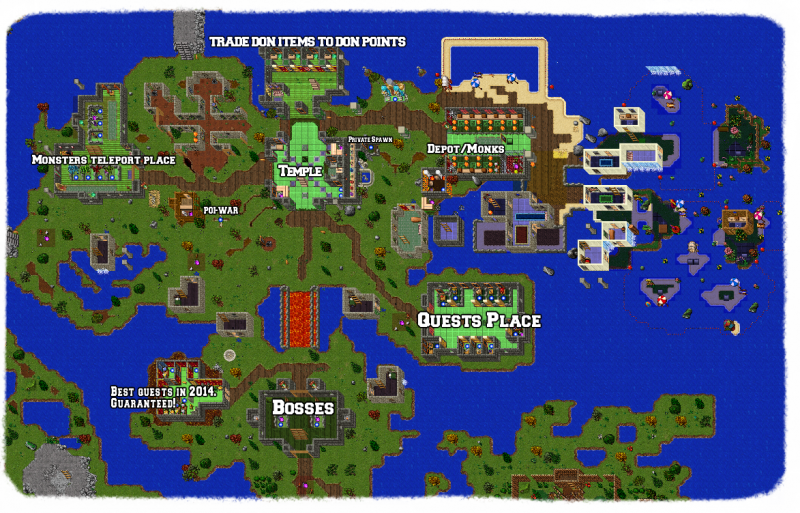 Events

Counter-Strike:
Exactly the same as real Counter-Strike, just in 2D. Map is de_dust2.
Capture the Flag:
2 teams, return the flag to your base to score
Team Capture the Flag:
Same principle as Capture the Flag, but with 4 different teams.
Open Battle:
Players are split in two, teleported to a PvP-map.
Team Open-Battle:
Same as Open Battle, but with 5 teams. Last team standing.
Castle-Conquer:
Idea based on Hunteras system, with more features.
Other useful information:
# - When you reach level 100, you will not gain more experience until you choose your class
# - When you reach level 300, you will not gain more experience until you get promoted
# - Promotion requires a level-reset. Your level will be set to 1, however, you equipment and skills remains the same. You will now get more health and mana per level, and new spells will be available. Definitely worth it.
# - Trainers are located under the Depot
# - PvP-experience are only for promoted players
# - Anti-Cheat system makes it impossible to cheat level via PvP-experience
# - Events are automatically executed every 3 hour
# - Raids occurs every day at 15:00 and 19:00 CET
# - The Queen, who provides Class-choosing and Promotions, are located in the top floor in temple
# - Custom skull system based on kills (Ex: 30 kills - white skull, 400 kills - black skull)
# - 17 huge quests, and also a lot of sub-quests and chests hidden around the map
# - Unique addon/outfit system. Unique quest for every addon, and also quests for 5 of the coolest outfits
Why should you get all your friends and start on Theotserver.com?
• -
Server coded by the best and most creative programmers in the Open Tibia Community
• -
Our programmers knows all the required languages to create a perfect Open Tibia Server (C++, PHP, Lua, Java)
• -
The best vocation-system ever created for Tibia. Who knows? Some day CipSoft might come up with something similar to this system!
• -
Unique events such as
Counter-Strike, Capture the Flag, Open Battle, Team-Battle
and
Castle Conquer
. 5 in 1 better than 5 in 5, save time!
• -
Custom website designed by Wezza, with absolutely every information you will need about the server!
• -
24/7 D
Code:
IP: Theotserver.com
Protocol: 8.60
Map: Custom
Last edited: