Joined

Apr 5, 2016
Messages

8
Reaction score

10
Ever wondered how to see sky in Tibia?
Or just dreamed about seeing it all in Minecraft?
We are here to make dreams come true!
Join our Minecraft server!
IP: 178.217.216.99
Version: 1.11.2
What we offer:
0. Do I pay? - hell no, one premium day can be bought for 5k gold. Also pirates are welcome!
1. Finished map about 70% (surface & dungeons)
2. Gameplay mode - you can run over map in account mode and create multiple characters per account.
3. Spells - cast effective spells against your enemies, use hotbar and spellscrolls to create hotkey (spellscrolls are taken from spellbooks).
4. Monsters - missed first dragon? Here comes next one! Two! Three... ops...
5. Quests - Annihilator, Pits of Inferno, Orc Fortress, Djinns, Shattered Isles and more hitting the road
6. Community - helpful builders nice amtosphere blah blah... and YOU!
7. Staged XP, double Skill and 1x drop rate - just fasten belts before quick journey to 100 level and then - 999 gate
How to play:
To play, you need Minecraft in 1.11.2 version. You don't need any mods.
After you launch game, select Multiplayer and then click Add server button.
Mind to choose server resource packs enabled.
Use /register nick password123 to create account. Recovering accounts is difficult, so mind writing your data somewhere.
/add character_name - it creates fresh character. From there now you go tutorial.
/login ; /list - usefull commands when visiting us another time
About the server.
Server was founded by Czapol in May 2012. He made whole Thais city and then expanded a little to the north. Then Valdafaluk joined server and started building Greenshore. Players rolled through server and they all were just driven by curiousness - how far it can go? Gameplay was more and more likely to Tibia, people started saying that they just feel the nostalgia of old days. People helping this Project are countless but for one matter, that is just the point of all idea - everybody would love to see how Tibia looks in Minecraft. Map full of memories stored in, filling a faith in mankind, one sharp thought that this all is remade with expectations and has totally different, yet nostalgic feel - this Project is for Players demanding somewhat fresh but that cannot deny the joy of fun in Tibia!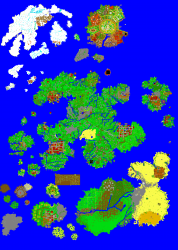 Got questions?
Discord is the easiest way to communicate over voice, video, and text. Chat, hang out, and stay close with your friends and communities.
discord.gg