Website:
Zalandaria (https://Zalandaria.8b.io)
Account Manager: 1/1
U.S.A / EU Players: Zalandaria.hopto.me
Brasil Players: Zalandaria.Brasilia.me
Version: 8.60 || PVP/E RPG
Welcome to Zalandaria 8.60, a low-rate, fully custom project built from the ground up. A level up should be rewarding, so we did away with the eye-sore that is a high-rate battle. Every item, monster, and spell have been rehashed to work with NPCs uniquely tailored to a new environment in a map built from scratch, along with over 50 custom animated spells for over 12 vocations. Enjoy hundreds of quests, gathering supplies for crafting, sprawling dungeons filled with puzzles inspired from the "Metroid-Vania" era of gaming, gigantic Titans that will challenge you in new ways, and other unique and exclusive content built by and for the Tibia Community. (Brought to you by a modified version of TFS - a big shoutout to the OTLand community)
Zalandaria is hosted on a dedicated 1gb(1000mbps) connection, 24/7, based on the west coast, Oregon. The server is meant to give a fresh taste on what tibia can be, with a lot of emphasis on team building and community. Each pair of classes will find they have a unique upper-hand in one aspect of combat over any other combination of classes. An Elementalist and a Shaman have unparalleled DoT and AoE coverage when together. A Knight and a Sage become an unstoppable wall. A Warrior and a Rogue become a flurry of blades. The combinations are vast, but any duo will be hard pressed to face a Titan alone.
Map & Adventure Progression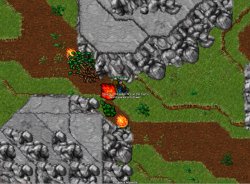 One of the main draws of the server in my opinion is it's 100% unique, built from scratch map. I had a lot of fun adding as much detail and layers as my skill would allow without the eye-strain of a million doodads. Nearly 500 movements and quest checks exist combined on the map already, with a loads more road mapped ahead.
The only way to progress throughout Zalandaria is by completing each zones "Main Dungeon" and collecting a rare Artifact from inside. Artifacts act as tools, and allow you to progress further in the game by burning down obstacles, smashing a boulder to bits, or even grappling across canyons. Even if a friend lent you theirs to use - the item would be unusable for you until you have also completed the quest.
Dungeons are also hosts to world bosses, known as Titans. Each Titan is tailored to their respective dungeon / zone, and offer the finest gear for progressing to the next stage of the map. Players will find that unifying to defeat Titans will yield unparalleled rewards by comparison to their underling counterparts, on top of those well desired addons to show off your swagger.
Rarity & Enchanting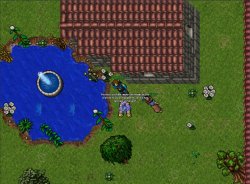 Every item dropped from a monster-kill has a chance to be Rare, Unique, Deadly, Swift, Epic, or Legendary - each offering stat improvements and bonuses on any item they are applied to. If you find yourself struggling in one area, backtrack to find more suitable equipment - or pay your local Miners Society a visit.
Items can be further enhanced with the use of Enchantment Gems - unique crystals with the ability to improve the stats on equipment and weapons. Enchantment gems can improve equipment up to +10, but failure will result in the loss of a level on said gear. (Ex: Weapon +7 -> failed enchant -> Weapon +6). Don't worry though, gems will not reduce any item +3 or below.
Mining & Crafting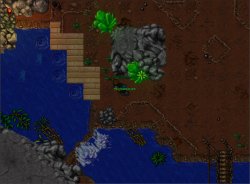 Ore nodes can be found throughout certain locations of the map, offering a new way to upgrade and improve old gear. Most of them are offered through a chain of the main quest-line in the quest log. Mining ores offer a variety of benefits beyond crafting, as not only will you find yourself with additional pocket cash from selling mundane ores, for every ore sifted the player gains EXP based on both the rarity of the ore, and the item gained from the ore.
Bring ores with coal to any furnace or forge of your choosing, use the furnace to spend a coal to light it, and use the now lit forge to smelt any key ores into metal bars for crafting. Talk to nearby blacksmiths to see what they can now make with your bars and any other necessary items.
Community Comes First
As an avid tibia player throughout the years, I know how frustrating it can become trying to get help with an issue in-game. As a host, I can guarantee that players come first, and community-addressed issues will come first in priority. We're all here together playing a game, and we all just want to have fun
EXP Rate: 1.5x
Loot Rate: 2x
Skills: x4
Magic: x3
Hope to see you guys there. Additional info, a discord, and more can be found on the website.
Oh boy, stage fright!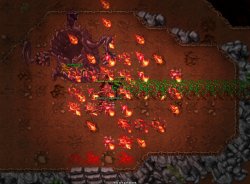 SMALL SPELL PREVIEW:
View attachment Spells_1.mp4
View attachment spells_5.mp4
View attachment spells_4.mp4
View attachment spells_2.mp4
View attachment spells_6.mp4
8-29-2020:
-Fixed a bug in the 'additional reward' room of the first titan
-Added Enchanted Armor set and some additional items to the crafting table. See the third blacksmith to learn more.
-Additions made to the "Desert Temple" quest
-Website released
-Started the entry area of the Tundra zone (map 4)
-Tweaked instant food healing on some items
-Tweaked t1 mining EXP
-'Meat Man' has seen an update to his locations and caravan
-Tweaked loot tables on smashable barrels / boxes
-added items to the vendor sell table
-A new set of creatures have moved into the expedition mountains.
-Various details added to map
-Donation shop revisited to ensure that donations reflect what they are - donations. The server is not P2W.
Last edited: