Joined

May 13, 2010
Messages

42
Best answers

0
Reaction score

9
honestly i am wondering if original tibia sprites were made this way, the original ones was also a blurry mess. but it had its charm. like, it wasn't even a pixel art, pixelart you have in the newest venore, but the old one might have been processed in photoshop or blender images xD for me this is another mystery to solve.
Like, look at those sprites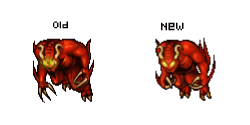 The right one is definitely a pixel art, but the left one COULD actually be an improved in "gimp" or some kind of editor 3d Render, It would be the same way of creating sprites as in heroes 3.
Last edited: