​
Introduction​

Let us introduce you to our server, we've been working on it for two years. Much has changed by this time, we started as retro 7.6 ots and the project developed gradually, until we reached 12.66. In the last update we decided to create our world from scratch once again, because we have gained a lot of experience and advice from our players.

This is how new Ennis was born. Our main goal is to make a server with its own map, story and unique features, but with classic tibia mechanics and game style at the same time.

​
---
Map
(wip)
Current map is the result of 2 years of experience. We tried to make everyone find something for themselves here. Regardless if you are a grind lover, explorer or mystery solver. The latest version of Tibia has allowed us to create a world full of interesting monsters and places.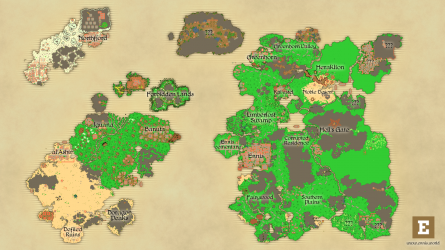 ​
---
Features
Ennis has many unique mechanics, which positively influence the player's experience of the game.The most interesting of them are presented below.
Waypoints
Similar to Hack'n'slash games - waypoints. They occur in different places, some we have to discover, other are special(for example quest tp)
Achievements
We made our own achievements, everyone can check his progress ingame, or check ranking.
In-game map
We added an ingame map with the current position indicator, so maybe no one will fall into hole full of trolls without a rope in an unknown land. We're hoping it will make your life a little easier at the beginning.
Hunting guild
Part of the bigger story, Hunting Guild is an organisation that combines different quests, this is where we can get tasks, or explore the world under the eye of Captain Black Jack. As a reward for your effort you can get experience, gold, or Ennis coins.
Bosses
There are several dozen bosses in our world. They can be found even on low-exp areas, some we can beat alone, but most often we will need help from other players.
RPG style trainers
We have created special training areas, in exchange for soul points you can practice your skills. Every doomy gains additives, for example double shielding etc.
… and much more smaller features.
Check our website to see videos in better quality.
​
---
Summary
Website:
Ennis OTS (https://ennis.world/)
Discord:
Link
Experience:
4x - 1x (6x - 1.5x with stamina bonus)
Skill/Magic/Loot rate:
6x / 3x / 1x
Client:
custom with 12.66 sprites
Launch date:
Open beta in July/June 2021
We also want to invite you to a closed beta from now.
Check our
discord
if you are interested.
​
Our map wouldn't look so good without other people's public works and servers.
Main thanks to:
@Blackstone
@Blez
@Cwiras
(probably)
Neon (probably)
Beto06
Some maps also come from projects:
Neptune
Nefaria
Eternal Kingdoms


​
Last edited: