Joined

Aug 3, 2009
Messages

632
Solutions

2
Reaction score

351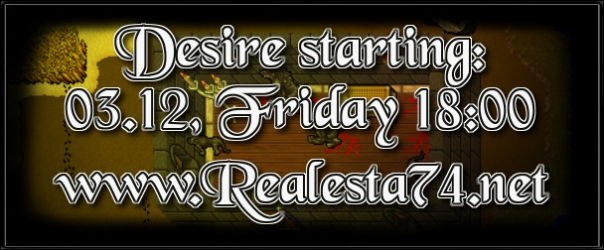 Sites:
Realesta74.net
Discord
Fanpage
[World configuration]:
-Low rate 7.4 Realmap Server
-PVP-Enforced
-Datacenter Gravelines, France (Europe)
-Custom made Antibot Client
-USA proxy!
-Built-in cam system.
-Server save at 10:00 AM.
[Experience stage]:
1. Stage : Level 1 to 8 : 4x (First day 7x)
2. Stage : Level 9 to 30 : 3x
3. Stage : Level 31 to 60 : 2x
4. Stage : Level 61 to 90 : 1.5x
5. Stage : Level 91 to 130 : 1.2x
6. Stage : Level 131 to 999 : 1x
[Game Configuration]:
-Loot rate: 2x
-Magic rate: 1x
-Skill rate: 3x
-Spawn rate: 1x
-PvP-Enforced rate: 1x
[Battle Configuration]:
-Frags to Red Skull: 3
-Frags to Ban: 6
-Frag duration: 15h
-Unjustified player killing ban time: 7 days.
-Final ban time: 30 days.
-Red skull disappear when all frags gone.
-Warnings to 7 days ban: 1
-Warnings to 30 days ban: 2
-Warnings to deletion: 3
[Gameplay]:
-Modified speed formula
-Expshare & Vocation Hunt
-Boosted spawns
-Instant travel "bring me to"
-Properly oldchool UHTrap
-Server is using account balance and transfer system in NPCs
-Advanced Tasks built-in client
-Live Cast system (Cast gives you 10% more exp if you enable it without password)
-Recorder System built-in client
-Guild war system
-New hunting places.
More detailed informations and updates!
Screenshoots!
Videos!
​