The Faloria Beta is now launching on January 7th!
​
---
Registration for the BETA is now open, head over to
Faloria Online
to sign up! The client will also be released shortly, which is required to play on our server.
The following configuration is applied to the beta-server (
note: this configuration does not reflect the live server
)
Server has the following rates:

Experience:


1-30: 40x
31-50: 20x
51-80: 10x
81-unlimited: 5x

Loot - 3x
Skill - 10x
Magic - 8x

Runes are infinite
All characters start with additional equipment
All depots has a "Beta Npc" that can give you some additional weapons/equipment and cash once you get to main
Why Faloria?
We want to bring something new to the oldschool scene. Both in the sense of a more longterm, stable project with serious administration with plenty of experience, but also to bring new features to keep the game interesting. At this point Faloria already has some custom systems integrated to breath new life into the game. This brings more things to do to the players and more areas for you to explore.
Even though the map itself is made up of the original 7.7 cip map, we have introduced revamped spawns, expanded islands and additional hunting areas, in a attempt to give the players something new and exciting. Read more for yourself over at our website:
Faloria Systems
About the project
This project has been in development for little over a year now, and we are finally able to provide you with a first glance on what we've been working on.
Faloria is a 7.4 Tibia server based on 7.7 map. Everything except the map is made out to the 7.4 version, so for example spells are based on magiclevel, UH-traps are possible and the boats have no protection zone.
Vision
We want you to have fun and engage with the game when playing on Faloria. It is the players that make the game, and all we as developers can do is make sure you have the means to have fun. We want to deliver a genuine oldschool feeling while keeping things interesting.
This also means that we always keep an ear open towards the community. Every constructive piece of opinion is important for us and help us improve our game.
Beta rewards
Participating in the beta should of course be rewarding, and as a token of our gratitude towards the players who participate, we will give each player that spend at least four hours online,
a free week of Golden Account
when the real server starts.
Players that also actively finds and report bugs to us throught the Discord/in-game module will recieve an additional reward as a token of our gratitude.
Updates
If you want to stay up to date on development of this server, join our Discord:
Join Faloria Discord
For more information about the server, check our website here:
Faloria Systems
or our discussion thread here:
OtLand Discussion Thread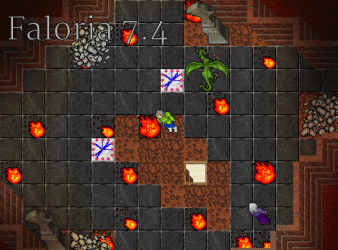 ​