-------------------------------------------------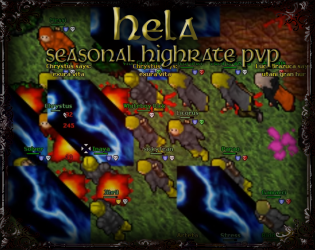 ----------------------------------------
Odenia is happy to announce the launch of our second server Hela, this server will be a seasonal server with higher rates. It will have a definitive end to it and is planned to revive multiple times throughout this year and the following.
So make the most out of your adventure in each season.
-
Website
-
-
Discord
-
Hela Rates
--------
Level 1 to level 10: 10x
Level 11 to level 20: 15x
Level 21 to level 30: 12x
Level 31 to level 40: 10x
Level 41 to level 60: 8x
Level 61 to level 80: 6x
Level 81 to level 100: 4x
Level 101 to level 110: 3x
Level 111+: 2x
Skills, Loot and Magic Level are all now using custom Odenia Systems and don't have conventional multipliers.
Skills and Magic Level both uses a system that's optimized to make the skills and magic level follow more organically as the character levels so that your character have more appropriate skills for the level you're at.
Our Loot System has also been restructured, monsters drop more minor valuables like pearls and gems as well as other valuables like the vampires Emerald Bangle or the mummys Silver Brooch, now having actual value and being sellable for a reasonable amount.
NPCs also pay more for the loot you sell them, for those wishing to lootbag. However in return, typically rare items like fancy armors are retaining most of their rarity, to make sure that it remains exciting to loot a Dragon Scale Mail or Mastermind Shield.
-Hela will go live on August 4th at 18:00 CEST-
​