Joined

Mar 1, 2011
Messages

146
Solutions

1
Reaction score

95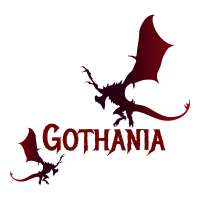 Gothania
is a hobby project that was created for years to one day connect all
Tibia
players, fans of
Gothic II
and everyone who likes good RPG in the online world.
Our dream was to bring the world known to us in Gothic to the one in Tibia, while keeping the Tibia gameplay.
On
Wednesday, 1st June, 2022 at 16:00 CEST
the first official start of the server is planned and we would like to invite everyone on our server.
Official server start​
Gothania starts on June 1 (Wednesday) 2022 at 16:00 CEST
It is possible to register and create new characters now.
Register on our website​
Join our discord:​
Check out the Gothania community on Discord - hang out with 101 other members and enjoy free voice and text chat.
discord.gg
Server information (short version, full presentation available below)​
Map:
100% custom, based on Gothic 2
Client:
custom, download on the website
Exp/Skill/Loot/Magic Rate:
1x (new monsters, spells, skills, spells)
Available professions:
Militia (Paladin), Mercenary (Dragon Hunter) and Novice (Fire Mage)
Type of PVP:
Open PvP with experience for players
Bots:
not allowed (GM checking players and reports)
Information about the server is also available at:
Gothania.pl (http://gothania.pl/serverinfo.php)
Server trailer​
Full server map based on the Gothic II​
The world of Gothania is located on one great continent called Khorinis and several islands.
Vocations​
The most important decision for new players is chosing one of the guilds.
First join of the minor guilds: militians, mercenaries or novices in the monastery.
After that you will be able to advance, becoming a full member of one of the "major guilds": Paladins, Dragon Hunters or Fire Mages.
The full description of the profession is available at:
Vocations ~ Gothania.pl (https://gothania.pl/vocations.php)
Skills​
The basic character factors are Strength, Dexterity, Hit Points (life) and Mana Points.
Out of these four, three can be trained, e.g we can learn them during the game by spending the gained learning points on it from NPCs.
Additionally all of them can be permanently gained by drinking special potions, dishes and so on, or temporary increased by wearing special items.
Furthermore player can learn also abilities such as fighting skills etc. which are also described below.
This creates a lot of opportunities for individual development of your character.
Magic Circle & Magic Level​
Both abilities refers to the magic, but they are completely different.
Most of the magic scrolls have their counterparts in the form of magic runes that can be used any amount of time.
These runes require learnt specified magic circle depending on the spell.
Magic Circles can be only learnt by mages from NPCs.
On the other hand, magic level increases whenever you spend your Mana Points using magic.
The higher magic level you have, the more damage you deal with the spells.
Strength / Dexterity​
Strength is one of the basic skills in the game that every warrior who wants to use melee weapons or crossbow should focus on it and develop.
By increasing our strength, we have the opporonuity to use better weapons that are heavier and at the same time, better.
Dexterity is also mainly dedicated to the warriors, but unlike strength, dexterity plays an important role in your bow career.
High dexterity is also important for thieves eg. during pickpocketing.
One-handed / Two-handed​
These skills are for people who like to fight with melee weapons.
Thanks to these skills, we can learn and develop in the art of using one-handed or two handed weapons.
We can learn it from NPCs or train it by dealing attacking another creatures.
The higher skill, the bigger chance for critical hit.
Bow / Crossbow​
These skills are for people who like to fight on distance.
Crossbow usually require more strength than bows, but they also deal more damage.
Successive levels of these skills increase the accuracy of your shots and dealt damage.
Take Trophies​
Learning some field of this skill is one of the ways to make money easily and quickly.
Possibilities in this vast and quite interesting field are extremely varied.
Create Runes​
Creating runes, as the name suggest, we can create runes.
With the right ingredients, we can create the rune we need.
Unfortunately, this skill cannot be acquired by anyone except the Innos' servants.
Alchemy​
It is one of the most practical skills we can learn.
By learning alchemy from a master, we discover the secrets of ancient methods of treatment with plants.
It is worth remembering that when we know this specialization, we can create any amount of healing and mana regeneration potions once we have required ingredients.
Forge Weapons​
It is very useful skill, because after learning how to blacksmith, we can create weapons from the weaker to the stronger.
Lately we can learn how to make weapons from magic ore.
Detailed information on the skills can be found here:
Skills ~ Gothania.pl (https://gothania.pl/skills.php)
NPC​
There are over 160 custom NPCs from Gothic available on the server.
Below in the link you will find all the NPCs grouped by location.
Monsters​
There are over 60 regular monsters on the server and over 20 that can be found while completing quests,
which gives almost 100 unique monsters based on those of Gothic II.
In addition, there are dragons in the mining valley that can only be defeated while wearing the Eye of Innos.
Detailed information about monsters can be found here:
Monsters ~ Gothania.pl (https://gothania.pl/monsters.php)
Items:​
There are over 483 items on the server. By dividing them into categories, we have:
Consumables: 56 items (food, herbs, potions, etc.)
Equipment: 67 items (armor, amulets, rings, etc.)
Magic: 96 items (scrolls and runes)
Miscellaneous: 139 items (accessories, trophies, etc.)
Weapons: 126 items (swords, bows etc.)
What else has Gothania to offer?​
no hp/mp regeneration after eating food, food adds life and / or mane immediately
mages in temples heal players for free (Vatras etc.)
permanent bonuses of life, mana and skills after using potions, etc.
5 learning points gained with each new level that can be used by an NPC to learn a skill
pickpocketing, i.e. stealing from NPCs in order to get gold / quest items.
5 blessings that can be learned from water and fire mages.
Pray for Innos statuettes for permanent bonuses every day
system of collecting the trophy from monsters only after learning
unique gameplay
conversation with NPCs using dialogues like in Gothic
the opportunity to become an apprentice to Bosper, Harada or Constantino in Khorinis
story and quests based on Gothic
frying meat on a fire using a pan
charging innos eye with dragon hearts
transformation into monsters makes them not attack us if we are not aggressive
the ability to buy a premium account and XP Boosts (50% bonus XP per hour)
the ability to sleep in any bed to heal yourself
herbs and mushrooms spawn based on the location in gothic
and much more waiting for players