Joined

Oct 28, 2010
Messages

71
Reaction score

19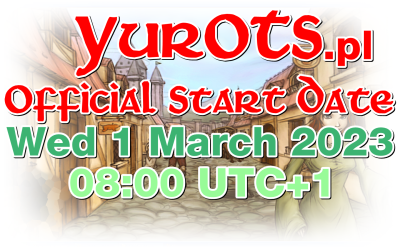 YurOTS is Open Tibia Server
version 7.6
based on the
Old School Rules
.
Gameplay imitates the unforgettable moments of
Tibia from years ago
.
Every detail was created with passion for PvP / RPG quality.
The server is available
24 / 7
and the
game is fully free
.
Official server start date:
Wed Mar 1 08:00 UTC+1 2023

IP adress:
play.yurots.pl
Port:
7171
Account maker:
YurOTS.pl
Basic informations
See you in Tibia! You are welcome!
P.s. This is
true retro
111111/tibia GM Yurez
Here you can follow current changes
YurOTS Classic 7.6 - Changelog (https://yurots.pl/index.php?subtopic=changelog)
YurOTS.pl
is an interesting alternative for players bored with 7.4 real map servers. Enjoy!
@bump
If you respect
YurOTS.pl
rules, you are welcome
Greetings to GM Yurez for awesome legacy!
@nostalgic
#Changes
YurOTS.pl meets the expectations of players and decides to introduce the following changes:



free premium account
the best in-game items available from Pits Of Inferno i.e. Soft Boots, Crystal Arrow, Sprite Wand and Avenger also available in Shop Offer
2 regular events Parcel and Rain Event from which players will be able to get valuable items.

Both events take place on the roof of the temple

The complex of changes will be introduced on March 14, 2023
Have a nice game!
Do you remember or have you forgotten?!
Old School 7.6
@b u m p
I heard rumors of a spring update