Joined

Sep 14, 2008
Messages

206
Reaction score

43
Information to mods - please do not remove this thread due to "2 countries in topic" - we have 2 servers, and we are advertising both of them.



Hello Otlanders,

I would like to introduce a new project coming from the MasterCores Team.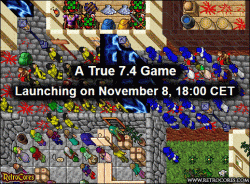 RetroCores
is a game designed to mimic the best version of Tibia.com before they ruined the game with bot-similar features built into their client and a mini-transaction shop ingame there you don't need to work for stuff anymore as long you have a credit card.
RetroCores is simply trying to capture the old and true way of MMORPG gaming with no options to let your credit card decide how powerful you can be.
RetroCores took the best out of Tibia, and improved the gameplay without ruining the original gaming aspect of 7.4 with non-stacked runes and fluids, where you need to work hard for your progress.
Where your skill in the game decide where you stand, and how far you can climb!
Most important information:
- Rates 2x
RetroCores will become a very serious low-rate and longterm game that people are anxious to join!
The entire game will be played with 2x exp!
Keep in mind that you always gain 1x experience from creatures, but that the amount of exp needed for a level is only half than what Tibia uses.
For example you'll notice that in RetroCores you need 2,100 experience to advance to level 8, instead of 4,200 experience that Tibia.com uses, so you'll advance 2x faster.
Skills: 2x
Loot: 1x
Magic: 1x
Regen: 2x
2 Servers - Germany - Antica | USA - Danera
Discord
Facebook
Website
Lag Prevention Feature
Last edited: