Joined

Nov 17, 2012
Messages

77
Reaction score

8
Hi otlanders!
Recently i got the module tutorial's of the poketibia, but this don't pops up in my OTClient full extended poketibia.
I share with you the screen of OTCLIENT Poketibia: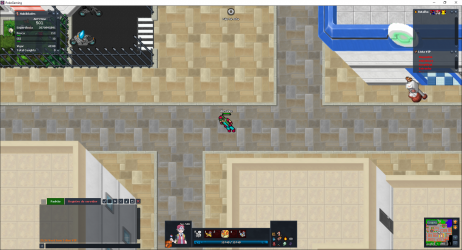 I have the other OTclient more newest version, and working, button like pops up 100%
I share screen with you demonstrating: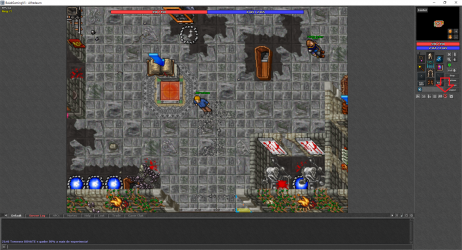 I just... placed the folder "game_tutorial" in the folder "modules" but in OTClient poketibia not working.
In the normal OTClient Working.
Well... i no have idea to solution this, anyone can help me to way...?
Post automatically merged:
my module tutorial (with no imgs):
Post automatically merged:
Arquive tutorial.otmod
Lua:
Module
  name: game_tutorial
  description: Game Tutorial
  author:
  sandboxed: true
  scripts: [tutorial]
  autoload-priority: 1001
  autoload: true
  @onLoad: init()
  @onUnload: terminate()
Arquive tutorial.otui
Lua:
TutorialLabel < Label
  font: verdana-11px-monochrome
  text-offset: 2 0
  focusable: true
  background-color: alpha
 
  $focus:
    background-color: #444444

  $on focus:
    color: #00ff00
  $!on focus:
    color: #ffffff

MainWindow
  size: 620 410
  padding: 0
  @onEscape: modules.game_tutorial.onClickTutorial()
 
  Panel
    id: tutorialImg
    anchors.top: parent.top
    anchors.right: parent.right
    margin-right: 10
    margin-top: 25
    size: 407 206
    border-width: 2
    border-color: #201f1f

  Panel
    id: oak
    anchors.top: parent.top
    anchors.right: parent.right
    margin-right: 163
    margin-top: 153
    __image-source: imgs/default1

  TextList
    id: indexList
    anchors.top: parent.top
    anchors.left: parent.left
    anchors.bottom: parent.bottom
    margin-left: 10
    margin-top: 25
    margin-bottom: 10
    focusable: false
    size: 180 180
    vertical-scrollbar: indexScroll
    focusable: true
    phantom: false

  ScrollablePanel
    id: scrollablePainel
    anchors.bottom: parent.bottom
    anchors.right: parent.right
    margin-right: 10
    margin-bottom: 10
    size: 407 156
    background-color: #201f1f
    vertical-scrollbar: textScroll
    padding: 5

    Label
      id: tutorialText
      text-wrap: true
      text-auto-resize:true
      anchors.right: parent.right
      anchors.top: parent.top
      anchors.left: parent.left
      margin-right: 13
      focusable: true
      phantom: false

  VerticalScrollBar
    id: textScroll
    anchors.bottom: parent.bottom
    anchors.right: parent.right
    margin-bottom: 10
    margin-right: 10
    step: 16
    height: 156

  VerticalScrollBar
    id: indexScroll
    anchors.top: parent.top
    anchors.left: parent.left
    anchors.bottom: parent.bottom
    margin-top: 25
    margin-bottom: 10
    margin-left: 176
    step: 16
    height: 170

  UIButton
    id: cancelButton
    image-source: imgs/exit
    size: 16 16
    anchors.right: parent.right
    anchors.top: parent.top
    margin-top: 3
    margin-right: 5
    @onClick: onClickTutorial()

    $hover:
      image-source: imgs/exit1
      
  UIButton
    id: languageButton_pt
    image-source: imgs/flag_br
    size: 16 16
    anchors.left: parent.left
    anchors.top: parent.top
    margin-top: 3
    margin-left: 5
    @onClick: setLanguage('pt')

    $hover:
      image-source: imgs/flag_br_hover     
 
  UIButton
    id: languageButton_en
    image-source: imgs/flag_usa
    size: 16 16
    anchors.left: parent.left
    anchors.top: parent.top
    margin-top: 3
    margin-left: 24
    @onClick: setLanguage('en')

    $hover:
      image-source: imgs/flag_usa_hover
Last edited: