Joined

Mar 7, 2017
Messages

99
Reaction score

23
Hey friends, how are you?
I have a small problem .. I have a custom class on my server that uses Gloves as weapons and its damage is based on the user's fist skill.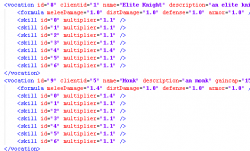 ​
I have implemented a system in source so that the game recognizes fist weapons.

​
It works perfectly, my fist skill increases as I attack. But I noticed that when you get to a certain number (32) this skill stops increasing and gets stuck at 0% of the bar. (I increased the rates for skill x500 but nothing changed.)

​
Could you help me get this lock on source? and put it the same way sword fighting is for a knight for example?
Thanks in advance!