Joined

Jan 20, 2022
Messages

76
Solutions

2
Reaction score

15
Why should you play on Highland?
One thing that makes us unique is that this server is completely free from Pay To Win! No donate weapons or bonus XP
(exception is stamina bonus with premium)
, you earn everything in-game! The only items you can get in the shop is quality of life items such as larger backpacks, multitools and premium days.
Highland is a server focused on RPG and exploration using the real Tibia map with some with some custom quests and systems for you to explore. We don't want to stray too far from the original game as it was back in the day of 8.6, the new items and spells are more focused on expanding the endgame instead of changing the already existing parts of the game.
Start your journey in classic Rookgaard
You'll start off in the classic tutorial island of Rookgaard until you're level 8 where you'll be able to leave for the mainland. Or if you choose to stay in Rookgaard you can compete on the highscores among other Rookstayers. We have a specific highscore on the website for players that stay in Rookgaard where we've also added a custom quest for the legendary spike sword.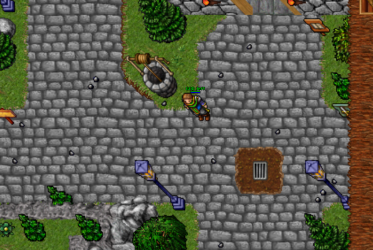 Here's what you can expect while playing on Highland:
Instanced dungeons where you can earn tokens to spend in the dungeon shop for unique gear and items.
Custom quests focused on exploration, solving riddles and more.
Custom weapons, ammo and spells available from quests and raids.
Fully functional quests from RL Tibia such as: "The Inquisition", "Pits of Inferno", "Demon Oak", "Annihilator" and much more.
A fully functional task system.
Offline training.
Players can spawn raid bosses through certain items that drop some of the best gear in game.
All outfit quests working, outfits gives different bonuses when equipped.
A friendly community on Discord.
Bounty hunter system.
Daily events with unique rewards.
Minibosses spawning all over the world every 30 mins with over 80 different spawns for variety.
A custom client for Android phones.
This and much more coming in the future! We hope that you will enjoy your stay here with us, and please do let us know if you need any help or have any feedback on how we can improve the server!
Experience rates:
| | | |
| --- | --- | --- |
| From level | To level | Multiplier |
| 1 | 8 | 5x |
| 9 | Unlimited | 2x |
| | | |
| --- | --- | --- |
| Skills rate | Magic rate | Loot rate |
| 3 | 2 | 1 |
| | |
| --- | --- |
| PvP information | |
| World type | pvp-e |
We hope to see you online on November 25!