Joined

Aug 5, 2008
Messages

1,504
Reaction score

39
About project:
Long time since I was involved into any servers, i'd say its probably
10 years ago
(2009-2010) I had some successful servers back then, if any original gamers here you maybe remember the Noob War server or the real map server I hosted. Anyway I'd like you to participate in my latest project that will go live the sometime in August. Me and a friend (Flux) decided to jump back into it and we have been working hard the past months to get everything setup, would you imagine for example multi-world that everyone take for granted is not really that simple but instead rather complex to setup correctly? We are doing everything ourselves and we have no plans stopping.
What is TibiaScape?
First of all, TibiaScape has nothing to do with RuneScape. I picked up tibia a year ago, playing it on my free time. After hundreds of hours of playtime to learn the game again there was a server not found in the matrix, I hope this server will fill this void. My passion to the game is always going to be about the 7.4 era, for performance and graphic the obvious choice is the 7.7 engine. This is going to be a old school server merged with newer customized content that fits the version of the game. We have followed the 2020-server meta and changed some basics that we think improves the game overall for the player which was removing all "
click chest quest get reward-meta
" since that ruins the server economy. The server is hosted on a dedicated host prepared for lag-free game play. The goal is to create a real tibia version of the game that still is smooth and fun to play with friends with just a custom touch. Port hope will not be in the first release of the server, there will be tasks and bestiary and a money sink casino with no pay to win, only Money vs Money and Money vs Decoration.
In the not distant future we will hopefully expand and release both a US server and a South American servers.
Test server is free to play for everyone, all accounts are automatically premium.
I invite you to discuss and be part of this project
LINK
:
TibiaScape Website - Test Server
DISCORD
:
DISCORD DISCUSSION
The Test Server has been on-going for a week and we already have about 150 gamers in the discord waiting for a release
Hunter Camp
The machine gun hunters are back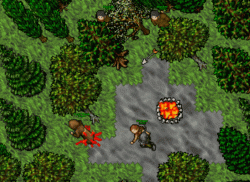 Scary Giant Spiders
(removed the clown orange ones)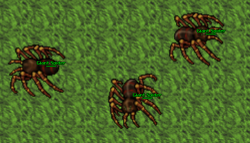 TESTSERVER


10x EXP
2x Magic
1x Loot
2x Skills
1x Regeneration

We understand that test-server is not appealing to everyone, but we invite you anyway

to join our project and stay tuned for our release.


​

Our Live Server

will have the following rates

Titania




-PVP-


2x EXP
2x Skills
1x Magic
1x Regeneration

​

Secura




-NON PVP-


2x EXP
2x Skills
1x Magic
1x Regeneration




​
Last edited: