e are glad to invite you to join one of the best Open Tibia Servers ever created - Ferana.net - Ferana has been one of the most popular 8.6 servers ever. We hope that you'll enjoy your stay here on Ferana!
Server start:
Saturday, 22.02.2019 16:00 ET (East Canada Time). 22:00 CET (Central European Time)
Ip:
Ferana.net
Client:
8.6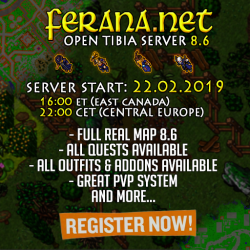 What is Ferana?
Ferana is a 8.6 real map Tibia server including:
-2 Extra custom cities:
(Oken, Full PVP-E, rate of exp by killing player is 2x higher at this island.) + Gengia
-Real Tibia Quests (100%).
-Real Tibia Spell formulas (100%).
-Real Tibia Weapon formulas (distance and melee).
-Real Tibia NPC'S (100%).
-Cast System
List of war improvements:
(In order to improve the wars, we have created a special system just for you.)
Killing other players higher than yourself will grant you with some experience (Pvp-E mode). But you will still receive unjust (This means that you can get red skull.)
UE spells will have 30 seconds exhaust when there is more than 10+ players on your screen.
WAVE spells will have 5 seconds exhaust when there is more than 10+ players on your screen.
AOE Runes will hit 60% lesser when there is 10+ players on your screen.
Stone Skin Amulets have an exhaust of 5 seconds.
Experience Stages:
1 - 50 - 150x
51 - 70 - 70x
71 - 100 - 30x
101 - 120 - 10x
121 - 140 - 5x
141 - 160 - 2.5x
161 - 200 - 2x
201 - 250 - 1x
251 - xxx - 0.7x
Rates:
Skills: =
From skill level 1 to 60 = 12x. From skill level 61 to 80 = 6x. From skill level 81 to 100 = 3x. From skill level 100 to unlimited = 1x
Magic: =
From magic level 1 to 70 = 6x. From magic level 71 to 90 = 4x. From magic level 91 to 100 = 2x. From magic level 100 to unlimited = 1x
Loot: 2x
Server info:
Client: 8.60
IP: Ferana.net
Port: 7171
Features:
Events: Weekly and daily events such as Massive Team Battle Event with great rewards in-game and a lot more different events we frequently organize
Raids: Hourly different raids, Real Tibia's raid system
The Cast system - Stream while you're gaming.
100% Real Map + 2 custom cities
Almost every quest! (Example: INQ, Poi, DH, Annihilator, Yalahari Quest, AND MORE! MUCH MORE!)
Free premium.
Oken city is fully pvp-enforced
Hosted 24/7
Great Wars
Be there at the opening of Ferana RL-MAP 8.6!
Is there's anything that you'd expect from a perfect server? Perhaps you'd like to ask a question before the server launch? If so, simply send us an email to:
[email protected]
.
We'll try to answer all of your emails as fast as we can. Please be patient since there might be alot of emails coming through!
Kind Regards,
Ferana.net!