Hello,
I just went thru my files and found an old project of mine, one of them contained a
real map 10.98
which i've thought i lost over time.
The map contains an custom made island which i made back in the days, i also fixed alot of issues on this map and a
datapack is avalible and can be posted up but i can't remember from where i found it.
I am often all in for the classic so this was made as a real map, slow exp becouse i do not like high exp/custom made real maps.
In this pack you'll get a clean Thais, Venore etc. with a fixed Roshamuul (Bugs, map missing parts etc.)
A quick photo of the city i've made, i made it connected with Port Hope so you can run from Port Hope into Daram Island.
(Custom made island).
Link:
Screenshot - 2d8daece8aba8748e4d025a8afb3c20b - Gyazo (https://gyazo.com/2d8daece8aba8748e4d025a8afb3c20b)
(In case the img does not show)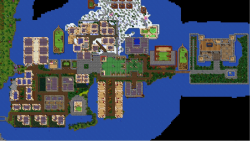 This city does look beautiful from the inside, hope you enjoy this cus i'll on my latest project which ain't a real map project.
This custom city was made from the ideas of myself and Asylum from Hexera. This project is also made from the ground of a city from the inside of Tibia.
- Slamos
Last edited by a moderator: