I'm developing a new server list for the OT community.
The key difference between this list and others is I don't rely on user submitted data.
I've already collected more data than all other lists, I'm currently focusing on the UI to display it.
I'm scraping the internet for ALL tibia servers (broadcasting on port 7171)
Then I normalize the status protocol data along with other server data collected while scraping.
User experience is the #1 goal. Keep an open mind as it's still work in progress.
Note: some data like player count will not update during development, as the monitor servers aren't running
Tibia LIVE - Open Tibia Server List (https://tibia.live/)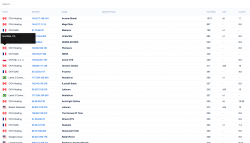 Last edited: