Joined

Jul 23, 2020
Messages

71
Reaction score

62
Dura, whose original vision started as Making a Game that was Hard again so it would be fun again, has spent the last year -- after reaching that goal -- creating fundamentally new Systems. Not just content, but structural Systems of Design that will lay the foundation for Great Gameplay that is balanced, sustainable, dynamic, and Fun for years to come.
Welcome to Dura.
From the moment you leave the temple every step you take, whether through Dura's streets or the torch-lit caves of its dungeons will feel fresh and new with death leaping at you from all sides. Dura was made for the most seasoned and skilled players. Alive with challenges, threats, and dangers it constantly pushes and tests your strengths and limits in contest to your fellow adventurers like never before. It feels like the original game, plays like original game, and it was designed in the classic spirit. The mechanics as well are 7.4. Every monster, city, spell, and everything else looks and feels like the Classic Game. But it stops there, because layered over and under all of that are endless differences. Monsters and spawns are far harder and more deadly. Spells have been rebalanced, and new ones added. The entire map is fraught with traps, surprises, and ambushes; something like 6,000+ individual map changes. New systems of Raid, Boss, Legendary Item, World Shifts, World Changes, Elite Monsters, PvP, Risk/Reward, Armor, Ancient Runes, Spells, Houses, and so much more. Alone there are over 350 plus added quests and mini-quests. New Areas and Spawns, Vocational Balancing, and on and on and on. What once was for all of us something unpredictable, unexplored, exciting and dangerous has become boring, monotonous, repetitive, unthreatening, and downright easy. No more.​
General:
Release Date: November 7th, Saturday, 18:00 CET / 14:00 UTC -3 / 12:00 EST/EDT/EDT
Website:

https://dura-online.com/

Client:

Custom

Host Location:

East Coast, USA -- 85 Ping Sau Paolo - 120 Ping Warsaw

​

Server Type:

Open Pvp (Highly Customized with added Systems)

​

Map:

7.2 (Highly Customized with added Content)

​

Protection:

Anti-DDOS (Cannot reveal how, for security reasons)

​

Timeline:

Long-Term. Years

​

Restart & Future:

Never. Consistent Updates.

​

Business Model:

Premium Account and Cosmetics. Never Pay To Win. Ever.

​

Premium Account:

$5 a Month. 14 Days Free when you make an Account.

​

Support Staff:

5 Gamemasters. Large amount of lower Support Staff. English. Brazilian. Polish. Swedish. Spanish

​

Cheating:

No form of Cheating allowed. If caught Instant Deletion.

​

Multi-Clienting: 1 Character Online per Player. If caught Instant Deletion. (We have a New System that will prevent the necessity of Multi- Clienting for Runemaking. Each day you will be able to play about 60 minutes without the necessity of Runemaking, avoiding the tedium and boredom of being FORCED to mana-sit; however Runemaking will still be an important and valuable part of the Economy and Game.)
*Host Location Contingency:
While we expect hundreds of Players, and possibly more for Dura we cannot confidently know how many Players will turn out to play and stay. Therefore we are beginning with only one Server. However if there is a high amount of Turnout, for example over 800 players we will look to add Servers in EU and SA.
Dura has been continuously improved over many months during its Test Server, where over 700+ Unique Players logged in on over 1000+ characters. I invite you, if you would like to know more about these months of Testing, to look at our Discord, and our Youtube. Also the beginning of Dura's test phase, much improved since then, started here with our Discussion Thread which shows as well the evolution of Dura since then.
Advancement System or Rates:
From our website ...
"
Gaining Experience and Loot is not typical here; there are more ways than one to earn experience and increase one's profitability. Effective Rates cannot be made clear by Rate Numbers only." I encourage everyone who is interested to see our Rates described in detail here:
Dura Rates Explained
Taking these factors into careful consideration the actual Effective Rates of Dura are:
Effective EXP
______
1.25x
Effective Loot _____
1x
Effective Skills
____
1.4x (Simple Explanation: Skills above 95+/- advance faster than normal formula)
Effective Magic ___
1.15x (Complicated)
Monster EXP ______
1x
Monster Loot
_____
1x
Skills
1x ____________
1x
Magic
_____________
1x
Mana-Regen ______
7.4 Authentic
Respawn __________
Scales with Players Online; the more players the faster the Spawn
There are many things on Dura that boost Rates outside normal parameters (described on the above link), but also because Dura is so much more challenging these are also then countered as well so advancement is not too quick.
Dura's Systems:
As stated Dura's Ethos is to give Players something that makes Tibia Challenging Again; this means making Dura unpredictable, dangerous, and polymorphic. The following Systems accomplish that.
Monster System:
Our Monster System is one of our most core and central Changes. In Dura monsters are far more sophisticated and threatening. Each given monster, upon spawn, draws at random from a ranged pool of stats and abilities pre-set for that Creature. This means that each individual fight or confrontation will be different and unpredictable, and thus challenging, meaning fun. However we've done more than just that, we've also slightly altered the spawns to make them more varied and 'multi-colored' engendering a many-headed challenge. In a phrase you'll never ever really know what's around the corner. Our goal was to push the game away from the mastered mechanics and knowledge bases we all completed long ago, the spirit-crushing and mind-numbing grinding, to something that constantly demands you to think on your feet, employ circumstantial strategy, and tests your talents -- all using native 7.4 knowledge and skills. So spawns (types of monsters in a given area) themselves will be different, but then so will the monsters themselves who inhabit them; in the hope of multi-layered unpredictability, and that doesn't include the other parts of the Monster System we cannot reveal due to spoiling the gameplay experience (what we can say is a spawn may be different from one day or hour to the next). But please don't think we became carried away. The Monster System, as with all of Dura keeps the game in the 7.4 Spirit and Atmosphere: In explanation the spawns do not differ in essence from what you expect -- not just by Power-Level but also Aesthetic; and the monsters themselves, their abilities and stats are in keeping with what their core characteristics are. We've woven and layered nuanced changes but in terms of feel, which we strove very hard never to depart from, it's just as any other time you've entered a Dungeon in 7.4.
These are 2 of about 10 random abilities a Cyclops can spawn with. Every monster has it's own ability pool which it can draw from. Look at the videos to see Witches, Wild warriors, and Elf Arcanists.
Here's a little showcase of some of the work we did today. There's some Map Playability for both PvP and PvE -- quick getaways or rope up your friend. There'...
y2u.be
Magic System:
We went back to the drawing board with Dura's Magic System. With a primary focus on balance among all vocations up through all levels, while never sacrificing fun and strategy. Many spells have been altered. Some custom spells have been added. All Spell damage and cooldown values are Authentic 7.4, except where specifically noted. However some spells have had their mechanics altered; many buffed or nerfed in their mana-cost. Such changes in mana-cost are not absolute but based on level.
Raid System:
The Raid System contains over 290+ Raids, including the original raids plus new Custom ones. Raids will happen across the entire map for all levels, and there will be about 20 raids a day. Raid Monsters will be different than Non-Raid Monsters: they may contain more loot, give more experience, act or behave differently. Dura's Raid System will give constant variety to the map changing how Players must interact with the world.
https://dura-online.com/?raids
A couple days ago Slash, a Tester of ours, came across what he hoped was a bug.... it turned out to be a normal part of Dura. He asked the GM for help but i...
y2u.be
Boss System:
12 Custom Bosses. All are End-Game-Content. Each one carries difficulty to a new level; these bosses are extremely deadly and require large groups of players working together to take down. More Bosses will enter the game as we expand.
https://dura-online.com/?raids
Elite Monster System:
When a monster spawns there is a chance the monster will take "Elite Form". An Elite is much more powerful than a normal monster, it has the same core characteristics but comes with special abilities that make it a far more deadly opponent. With its difficulty comes just reward -- when you conquer an Elite you will receive more exp and loot than normal.
The following demonstrates a couple of abilities: Sequence Paralysis. Recloning. Teleportation. And a Field Beam that you wouldn't want to step on. There are many more.
Death/Loss System:
On Dura death carries with it a consequence, it costs a lot for a player; and there is a proper reward for those who are skilled enough to kill an opponent. We have balanced the Death/Loss system economically. It will cost more money for Blessings every level higher you become. AOLs come in Color-Tiers, the higher the Tier the more expensive the AOL. Read more here this System, Break System, and Skull System:
https://dura-online.com/?information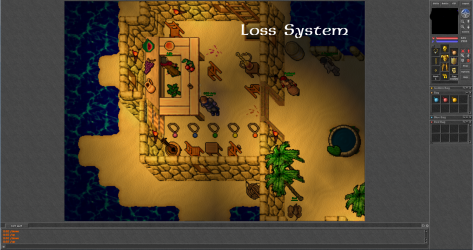 Break System:
Our Break System is our answer to control the inflation of items, helping regulate the economy of exchange, while also giving proper punishment for Death.
Skull/Punishment System:
We use the Standard Skull System with a vital twist. Instead of becoming banned or a Black Skull for excessive Player Killing you become an Outlaw which will work to regulate Player Killing efficiently as it punishes the PKer (Outlaw) and rewards those who kill him.
https://dura-online.com/?information
Quest System:
Dura features the original 70+ Quests. Added to those 70 it has 20+ Custom Quests. But, and we are more proud of this than the 20+ Custom Quests, it has 350+ Custom Mini-Quests.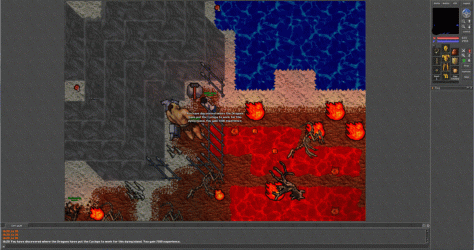 Map itself:
Dura's Map base may be 7.2 but it has endless amounts of custom content/spawns/areas
interwoven
through that base. There is so much that is new to explore, and we concrete plans to add more; a look at our pictures/videos would prove that. There are over 6000+ map changes alone on Dura's Map.
Dura's journey will start with a 7.2 Map Base because 7.3+ becomes highly imbalanced and OP. But don't let this discourage you. Dura will be putting out seasonal updates renovating standard places, for example, Ankrahmun first. We will retool Ank making it balanced for both PvE and PvP and as an individual location but also more importantly in concert to the rest of Dura's Map.
Realm's Aid:
We are not revealing here how Realm's Aid works as it will spoil the fun. But people will figure it out within the first day or two; testers have done it easily. This is the System that negates the need one must mana-sit. This system will allow any player to login each day and be able to play about 60 minutes without any prior preparation.
Map Playability:
Playability consists of all the variability, versatility, and options the map affords the given Player as well as the obstacles and hindrances it presents the player. The entire Map is fraught with traps, surprises, secrets, tunnels, paths, ambushes and other interactions; well over 6,000+ individual map changes which
doesn't
even include ADDED content/areas. It's a strange thing because this is really one of the most important systems but it's hard for words to do it justice.
Notice that the Map Playability Screenshots hint how interactive the map is. You can cut trees with an axe, make bridges appear and dissappear on occasion and even open up secret passageways in walls.
World Shifts:
"World Shifts are Map Changes which are REGIONAL yet, by their nature, their effect will be GLOBAL. They can last for days or weeks. They will be determined by Natural Events, such as Earthquakes, Floods, Eruptions, Wild-Fires, Famines, Plagues, Infestations, Wars, and so on. The results of which mean the accessibility of a given Area/Region may be enhanced, changed, or cut-off..."
https://dura-online.com/?worldchanges
World Events
"During any given day or days Monsters might be different than you would normally find them, and on that day(s) their reward might be different. This will change how you are able --and sometimes will have to-- interact on the entire map..."
"During any given day or days Lands, Rivers, Dungeons, Cities, and/or Spawns, and anything else, might be different than you would normally find them..."
Ancient Rune System:
Ancient Runes are runes that must be acquired through dealing with monsters. They are more powerful than Normal Runes. This provide a market of exchange between high and low levels while also giving greater Strategic-Range when it comes to approach playing.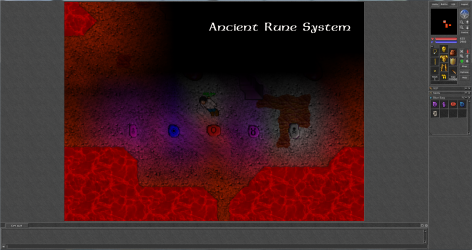 Unowned Houses System:
On Dura if a house is Unowned anyone can enter it and use its doors and beds. Also in every Unused House a player can attack and be attacked by players and monsters. This makes every Unused House/Guild-Hall usable in a variety of ways. If the house is Owned, it behaves like a normal house with normal rules.
Armor System:
I'm afraid Dura's predecessor has an Armor System that was woefully unbalanced and offered little in the way of function as well as strategy. Dura's Armor System will demand the player makes choices for strategy and pays the price if those choices are wrong.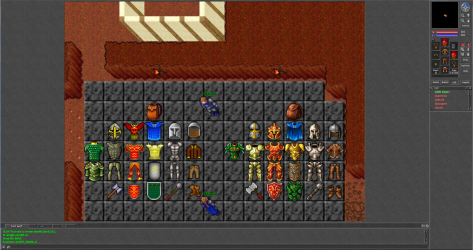 Ambush System:
Ambushes take a variety of forms but in essence an Ambush is the changing of a given environment based upon interaction with that environment. For example you enter a cave and all of a sudden rocks appear behind you and 3 monsters in front of you with traps on the floor.
Here's what happens when you run across an ambush on Dura. There are over 1500+ ambushes on Dura. And the circumstances of being trapped in by walls is one o...
www.youtube.com
Legendary Items:
Legendary items on Dura are far more powerful than all other items. There are multiple ways to acquire them; although all players will certainly have their chance of using them skilled players will be rewarded for their use while unskilled players will be punished.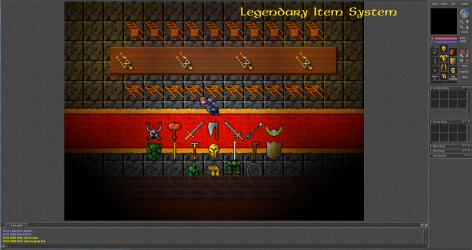 Minor Changes:
And those are only Major Systems. Countless little adjustments and changes, literally over thousands and thousands, like adjustment of Boat Prices or the addition of multicolored Light Wands, cheaper Life Fluids, how you get six small sapphires instead of two small sapphires from a quest, how Knights and Paladins can use Ultimate Light and its mana-cost is lowered, that Exiva has a 20 second cool-down, that there is a secret tunnel under 'blank' city, or how Trees are cut down with axes, or that Dragon Necklaces and Might Rings don't lose charges when you walk over a Fire Field. Dura is different. Dura was made to offer players what they felt when they first played: something new, fun, and exciting.​
Vocational Balancing:
Where to begin? A primary focus for us was to ensure Vocational Balance from level 0 to level 500 in both PvE and PvP. Keeping in mind that balance does not mean equality at every level or in every aspect of the game. Balance means there is enough cumulative value, even though the distinctions of value differ in various fields of the game, that each Vocation is equal when everything is taken at a whole. This is always our goal. I recommenced these links but really nothing besides playing the game or seeing our Internal Patch Notes can give you a fine-print picture of what has been done in Dura when it comes to vocations.
https://dura-online.com/?information
Poison Storm might be the most disappointing spell in history for me personally. Since I first played a long time ago I always assumed the damage tick would ...
www.youtube.com
Dissipate is a spell for Sorcerers which greatly increases their options. Upon use, if the user has Magic Shield active, the spell Dissipate will cancel it, ...
y2u.be
Here's another Custom Spell found in Dura. Rage allows a Knight, through raw power, to break through the spell known as the Druid's "paralyze" giving him imm...
y2u.be
Stability and Security:
Dura's host is OVH and the actual server-machine it runs on is top-notch sparing no expense. Having smooth performance is not a question and is testified to by our Test Players.
Security can be in no doubt as well where it concerns Dura. The proper accounting and provisions have been taken to ensure and wall ourselves and our players against DDOS, attacks, hacking, and so forth.
Looking Forward:
Dura is designed to be a Long-Term Server that lasts for years with constant Updates and New Content while always retaining and
never departing
from the spirit of Dura -- challenging, dangerous, unpredictable, and fun. We have a dedicated staff who speaks English, Portuguese, Polish, Swedish, and Spanish. Feedback is lifeblood for us. Looking at our Test Server, our Discord, and the various OTForums is evidence of that. We not only listen to Players, we go out of our way to find out what they're thinking; our game can only be as good as the Knowledge that supplies its decisions.
As well we will vigilantly pursue resolving errors/abuses/imabalances/bugs in Dura, and are always ready to admit our mistakes and patch things as a first priority. This is vital to Dura's health. We have plans for this game many years ahead, if you'd like to read more look here:
Future Plans - Dura (https://dura-online.com/?futureplans)
Expectations on Release:
It is extremely important to us that Dura has a healthy player population as this is essential to allowing it to reach its maximal potential in delivering a fun gaming experience. Obviously as this is Dura's first edition there is no real way to know if it will be popular or not, it might be 500 players or it might be 50. However we do expect a very large Release and there is much reason and evidence to support this. As stated we have had over 700+ unique players during Dura's Test Server alone. We also have been successfully advertising on various sites like OTServList and will be doing a Full Campaign at Release. We have a large presence on various OTforums. Finally we are partnered with many Streamers who will be Streaming/Playing Dura on Release as well as 1-4 weeks after depending on the Streamer. For example Rubini, Nattank, Hegal, HardParadox, Amadeus1518, DecentPaladin, Vinterstorm_, and more. We have 9 Big/Mid level Streamers and many more who are smaller. We are still in talks with various other Streamers from the absolute biggest to smaller ones and we expect to have more than 9 at actual Release. It is for these reasons we project a big release in the size of hundred of players, possibly more. Therefore we welcome you to join and give us a chance.
Best,
Dura Staff
Last edited by a moderator: