Joined

Apr 1, 2021
Messages

545
Solutions

3
Reaction score

210
Any form of cavebot will be punishable.
light macro is allowed.


Introduction
Welcome to the new beginning.
First World Of Competitibia announced.
No Boats
Learn spells.
Yes in this server you will have to learn spells.
EXCEPT EXURA, UTEVO LUX, EXEVO PAN,
DEATHLOSS:
XP 11%
MLVL: 3%
Skills: 2%
BP: 100%
Items: 15%

Server info & Stages
x1
Rates
Magic Rate = x1
Skills Rate = x1
Loot Rate = 1x
PVP Experience = 1x
Regeneration = custom
Frags:
Time to decrease frag: 12 Hours
Frags to red skull: 6
Frags to ban: 10
Red skull Time: 7 days
Ban time: 3 Days
Gameworld Changes:
No boats, No Aol, No bless
XP rewards
for quests
Exploring rewards.
Increased Deathloss
Increased item loss on death
Added djinns on jakundaf desert
[unlocked] and in ankh originally too.
Rashid in carlin and edron
[unlocked]
Added 35 new bridges connecting small
rivers
and
places
Added mountain
passages
and escape routes
Added Roof connections in various places for pvp advantages
OVERSPAWN(monsters spawn when they move from their
spawn
tile
!)
Runes are
double
charged. You can leave your blank runes in your backpack while conjuring.
Smooth Client
No Hotkeys
Exevo pan for all vocations uses soul instead of mana
Food Heals % of mana and health instantly when you are not hungry anymore
Links:
Website
Discord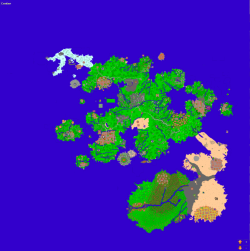 ​
Last edited: