Highly Skilled in Noobing
Joined

Aug 10, 2010
Messages

64
Reaction score

35
You can follow this guide.
What
is
the goal of this guide:
A stable Windows
development
environment.
What
is not
the goal of this guide:
A production environment for TFS.
Do not use it as a production set-up.
What this guide
will
teach you:
How to set up a Windows environment to compile TFS sources
for Linux (on Windows) and run it with
out
virtual machines.
After this guide, you'll be able to get the TFS source, edit it, compile it and run it.
What this guide
will not
teach you:
How to compile TFS for Windows.
No .exe files!
You will be able to run your test server
only within Ubuntu Windows Subsystem for Linux.
What you
will
use:
Cmder (a console emulator).
What you
will not
use:
Virtual Machines (VirtualBox, Vmware Player/Workstation, Vagrant).
Containerization and orchestration technologies (Docker, Kubernetes).
What this setup looks like: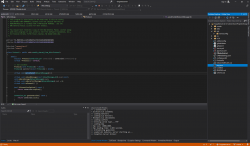 Why this might be useful to you:
Very little overhead compared to using a VM.
Amazing development experience from Visual Studio.
Solid Linux compiling & execution environment.
Not "workaround" based. All the solutions respect the project design.
Very likely to work as advertised.
Source files stay in one place. No back and forth between systems.
You'll be better prepared to deploy your custom server to an actual server.
You need Windows 10 for this.
If it sounds good to you, then let's get to work!
Last edited: