Joined

Sep 6, 2020
Messages

6
Reaction score

37
Hello Everyone!
This is the first time I'm contributing to this community. i've been here for a long time just getting all sorts of resource and useful stuff and it's time to return something.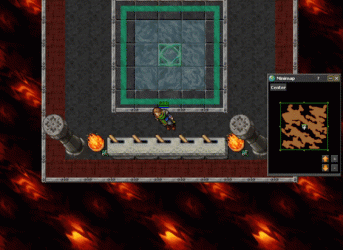 ​
I recently followed the
Sebastian Lague's
tutorial for a
procedural cave generation based on cellular automata algorithim
, and decides to convert to an Open Tibia project.
To made this work:
Put the 2 scripts files on the script folder
Chose some place on your map to use for the map generation.

Create the space where the player will appear

Configure the levers aid (2301, 2302, 2303, 2304, 2305)
Configure the script


Lua:

local MAPS = {
    [1] = {
        startX = 1500, startY = 300, startZ = 7,
        width = 120, height = 120,
        randonFillPercent = 50,
        roomTheresholdSize = 50,
        wallTheresholdSize = 100,
        playerSpawn ={x=55, y=55, size=10}, --start point x=1555, y=355
        map = {},
        remover_primeira_camada = true,
        style = Styles["Earth"]
    },
    [2] = {
        startX = 1500, startY = 300, startZ = 7,
        width = 120, height = 120,
        randonFillPercent = 52,
        roomTheresholdSize = 50,
        wallTheresholdSize = 100,
        playerSpawn ={x=55, y=55, size=10},
        map = {},
        remover_primeira_camada = true,
        style = Styles["Earth (stone border)"]
    },
    [3] = {
        startX = 1500, startY = 300, startZ = 7,
        width = 120, height = 120,
        randonFillPercent = 55,
        roomTheresholdSize = 20,
        wallTheresholdSize = 50,
        playerSpawn ={x=55, y=55, size=10},
        map = {},
        remover_primeira_camada = true,
        style = Styles["Rock Mountain"]
    },
    [4] = {
        startX = 1500, startY = 300, startZ = 7,
        width = 120, height = 120,
        randonFillPercent = 51,
        roomTheresholdSize = 20,
        wallTheresholdSize = 50,
        playerSpawn ={x=55, y=55, size=10},
        map = {},

        remover_primeira_camada = true,
        style = Styles["Earth Mountain"]
    },
    [5] = {
        startX = 1500, startY = 300, startZ = 7,
        width = 120, height = 120,
        randonFillPercent = 52,
        roomTheresholdSize = 50,
        wallTheresholdSize = 100,
        playerSpawn ={x=55, y=55, size=10},
        map = {},
        remover_primeira_camada = true,
        style = Styles["Darkest Mud (lava)"]
    },
}
---
Github Repository:
(updated)
Open Tibia Procedural Cave Generation (Cellular Automata) - GitHub - LeoMarques101/ProceduralCaveGeneration: Open Tibia Procedural Cave Generation (Cellular Automata)
github.com
Todo List:
Beautify the cave floor

(diferent tiles, itens and etc..)

Improve the randomness of tiles
Improvements:
Possibility of multiple floors
More complex generations

(islands and etc.)
Credtis:
Sebastian Langue: For the amazing tutorial
Inconcessus: For the logic I used to create the auto border
OtLand Communit: For all these years of dedication
Last edited by a moderator: