Joined

Mar 10, 2019
Messages

36
Reaction score

21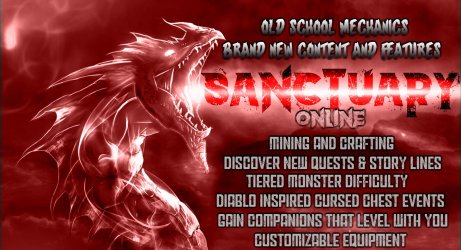 Sanctuary Online is a heavily customized RPG experience that seeks to bring back the gameplay experience of fan favorite version 7.4 Tibia but with expanded development & lots of completely new content. In combining the PvP mechanics players adored in old school Tibia along with elements from other beloved games such as Diablo, PoE, and Skyrim we are left with a truly unique gem in the private server community. We will have updates to old areas, completely new area additions, classic monsters & new custom creations, many world bosses and raids to fend off, mysterious original quests to figure out & rewards to gain. Here's just a small taste of what Sanctuary has to offer:
Unique dungeon system with satisfying bosses / rewards
Cursed chest inspired events
Ancient shrines for you to find with brief bonuses on activation
Upgradable equipment, equipment set bonuses
Multiple target weapon capabilities
Several built-in client features such as live recording, character creation, player proxy and more
Functional companion system with leveling to greater expand your companion's abilities
Item tool-tip with beautiful mouse over graphical user interface
Demonic monster system.. Now this feature we are really proud. Most every creature has the potential to spawn a boss-type mob at random interval bringing greater risks and rewards to every spawn. Those boss types have stronger capabilities, newly created look types, and they are sure to keep you on your toes no matter where you decide to explore!
Item upgrade system where each item dropped is unique and eligible for exciting new attributes. Build your equipment from common to legendary and show off your creations!
Mining / Crafting systems
Multiple ever expanding storylines and side quests ensuring there is always something to do here in Sanctuary!
& lots more
Four different expansion 'eras' to come the year of launch:
Sanctuary: Draconia
Sanctuary: Demona
Sanctuary: Goroma
Sanctuary: Pandemonia (new area)
The expansions add on to our main storyline and include revamping some severely underutilized places on the map to give fresh experiences in classic places. Our main quest will take you on a journey through these beloved areas and will show you a world that has been hidden to you but now slowly enters the light.
We begin on Draconia known as the Dragon's cemetery though the reasons behind this have never been real clear.. An Old Dragonlord remains abandoned here prisoner not only to his isolation but tortured by his memories as well.. What caused so much pain to the Dragon race? As we dig deeper into the mysteries of Draconia we will discover dark forces growing beneath the island and all over tibia that even the Dragons have come to fear!
To pay respects to our roots you will find the following mechanics and more in the updated Sanctuary realm:
No runes in shop
No hotkey aimbot
Rope monsters, lure monsters as far as you want, they'll respawn anyway so you don't hurt the spawn!
You're gonna need a light source.. Ambient lighting has been removed
Move & loot bodies instantly, even if they're not yours!
Parcels are quite the useful blocking devices if deployed correctly
No safe zone (PZ) on carpets or boats sorry not sorry
& plenty of other beloved old school mechanics here at Sanctuary
Join our discord for the most up to date information and dev notes or visit us at sanctuary-online.com
Discord is the easiest way to communicate over voice, video, and text. Chat, hang out, and stay close with your friends and communities.
discord.gg
We look forward to seeing you all March 12th!