Joined

Jan 16, 2022
Messages

121
Solutions

2
Reaction score

96
Cheaters are definitely banned, you can see it here:

Nostalther Violet (https://vlt.nostalther.com/banlist.php)

If you find cheaters, report them. Action will be taken

And no, we don't spoof online player count. That kind of thing is just pathetic.

Well, if it was spoofed players, the spawns wouldn't all be taken. 😅

300+ Would be amazing to see though <3
You care too much for the numbers and too little for actual players.
Literally, EVERYONE is MCing on your server, and it's not just one mc, people are using farms from the same IP and there is no punishment.
But let's not insult each other, let's look at the data.
Tibianxxx.online - 160 players at peak recently, 12 bans in the last two days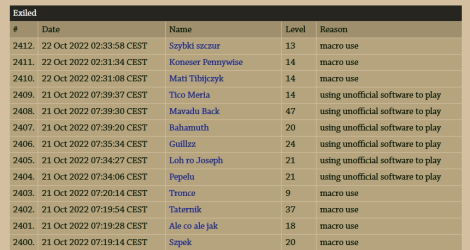 Tibiasxxx.com - 140 players at peak, 13 bans in the last two days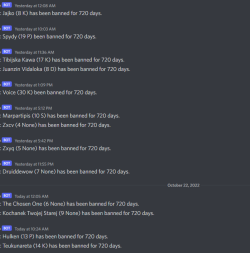 Your server - 240 "players" at peak - 11 bans in the last two days
Based on the data you provided, we can clearly see a pattern - on average, your players use 2 mc each,
as you initially wanted it
, assuming that there is no mc on other servers.
I'm just trying to make you realise that this will ruin the server in the long run - if you allow bot players this early, some will gain a very unhealthy advantage and won't respect you, because from their perspective your morality is crooked.
Tibianxxx.online has lasted so long not only because it was well made, but because the economy was healthy.
Yours is already pretty intoxicated.
Btw, you must learn how to encrypt your cilent correctly, right now literally anyone can just drag&drop bot into it
Last edited: