Joined

Apr 21, 2020
Messages

59
Reaction score

37
Since there is almost everything needed to put anopen-beta done, for the first time, after a 6 months of work by a one-person team, I'd like to show you the Customa OTS. Biggest part of work that's still left to do is website, which I'm currently working on right now. I'm aware of few bugs that would be fixed untill the open-beta starts, that's why a strict date of release is still not avaible. As soon as I maintain to get shit done, the date will be updated below - be pacient please.
Closed-beta tests launch date: 23.02
Open-beta tests launch date: ------
CUSTOMA ​
The purpose of making Customa is to combine a classic Tibia style with a custom (as the name suggests) mechanics to make the playstyle more dynamic and fresh. However, according to the different approach to MMORPG nowadays, the very core of Tibia was heavily changed. At Customa you don't need to split your time between actively playing the game and investing many hours to grow your skills in the old way - the server uses a skillpoints to make your character stronger.
You can focus at leveling, making quests, hunt your enemies down or simply discover a crossover between real Tibia and huge, custom map.
There are implemented many mechanics that you won't find in real Tibia, such as double wielding, which increases your basic attack speed by 50% while activated. Other thing worth to talk about are passive attributes. Passive attributes are unique for every vocation and their power depends on player's missing health. They activate when your health is below 50% and get strenghten while below 25% maximum health. Those attributes can temporary boost players skills for 5 secconds from activating.
Vocations are made to fit 5 different ways of gameplay, but the skillpoint system gives you a lot of space to improve your character in many other ways. The main roles are:
- Caster - Mage
Warlock -

Support

- Cleric
Guard - Fighter - Blademaster
Paladin - Controler - Summoner - Assassin - Shinobi

​
Spells are almost 100% custom made, few oryginal Tibia spells have been also implemented, some of them were slightly changed to fit the gameplay. There are 6-8 main spells for every vocation excluding exuras, exevo pan etc.
Due to hotkeys era (and bots, which I don't approve), Customa got rid of most of the runes in game, keeping only the necessary ones. In exchange players can enjoy the elemental system, which fills the 'most of runes' hole. There are going to be 6 elements in the future, starting with basic four which are fire, ice, energy and nature. Every single element has it's own unique spells that can interract with the other elements. The system is made to combine two of the base elements to icrease power, size or condition given by elemental spells, however, a player can use only one type at the time. Abilities can also be weakened by wrong combination, such like fire and nature will have their power decreased.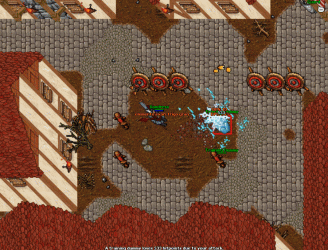 ​
​
MAP

​
World of Customa is a combination between good known, Tibia map and an additional continent, with new towns, hunt spots, quests and many more things worth seen. Map is kept in the oryginal style to make it authentic part of the whole world. At the moment there are still hidden quests already done, but untill I refresh them they will be a secret for a while. The minimap is going to be mystery and I wont provide it soon.
The Customa players will get a free premium account lifetime. A players can buy other unique things, like outfits, mounts, furnite and other stuff that can't be obtained in any other way - you won't find any gamebreaking items to buy for a real money to keep it fair for everyone.
You can expect a weekly updates of the progress. Looking forward for your feedback!
PS. If you want to take a part in closed-beta tests which starts (if everything goes well) 23.02 feel free to PM me.
Kind Regards,
Xandress.
​