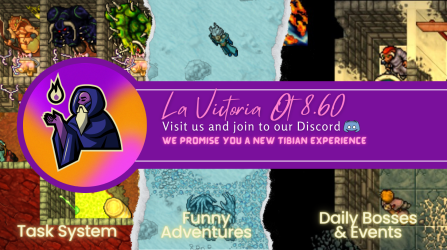 Our Web:
https://lavictoriaot.com
Server Features:
Infinite runes and ammunitions

Potions NPC. (50% discount for the top 5 level)
Many events
Tasks system (with final bosses)
Daily bosses and team bosses
Monster raids and bosses raids
Powerful items obtainable in the game

Many cities and respawns
POI, Inqui, DH and many more missions
Blessings free until lvl 50 (!bless)
Own Client
Balanced vocations
PVP protection until level 99
Server Rates:
Experience: Stages (150x-2x) [10% extra for VIP players)
Magic: 9x
Skills: 30x
Loot: x2
Spawn: x2

Server Conection:
Location:
Canada, Montreal.
Server tested from different locations, no lags detected from
Europe
,
USA
or
LATAM
.​