Joined

Mar 7, 2009
Messages

2,793
Best answers

0
Reaction score

589
Welcome to the official discussion thread for InsanityOT, if you have ever been a fan of high experience servers and are looking for new ones to try then this is the thread for you to follow. Here at InsanityOT we are taking the term high experience to a whole new level, level cap is 10.000.000 and the limitations are basically non-existant.
This is not the 1st era of InsanityOT that has happened, but hopefully if you have played on the previous eras you'll find yourself having a better time now.
Ingame there is currently over 300 items that is obtainable ingame, grow your character to become unimaginably powerful and create items that has statistics that makes you wonder if what you are seeing is actually real.
Currently there is no set release date
, I will be posting updates in this thread over what new was added etc. and it is highly appreciated to get some feedback and/or what you think would be suitable ingame if you've played the past eras.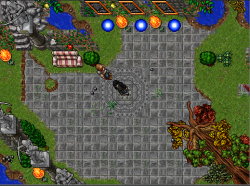 Currently in the game there is a total of 6 vocations, and 40 different promotions to choose from as you progress through the game. Obtaining spells at the beginning of the game is done by collecting spell tokens, these spell tokens can then be traded in for spells and/or runes. There is currently 50 different spells and runes that you can choose from.
What does it do?:
Necromancer is a mana user. It uses his mana to survive and casts spells in order to attack creatures or monsters. However necromancer has a better 'dark' energy which means that his magic attacks are stronger than a regular mage would be. Necromancer needs spell tokens in order to get new spells or to do quests.
What does it do?:
Priest is a holy version of druid. Priests have the ability to heal others but also to do alot of damage. Necromancers are ofcourse stronger but priests have more mana gain than a regular Necromancer. Priests also have to buy their spells with spell tokens or do quests for them.
What does it do?:
Archers are a mixup between guards and mages. They base their lifes on health and mana and their melee attacks are very powerful if trained well. Archers have to buy spells with spell tokens or do quests for them.
What does it do?:
Guardian is a more powerful version of tank. Guardians have alot of health gain per level and they also do a great deal of damage with both spells and weapons. Spells needs to be bought with spell tokens or done quests to gain them
What does it do?:
Assassins is the only vocation who doesn't need to buy spells as their gainable through level up. Of course each vocation have gainable through spells either by doing quests or prestiging due to reaching certain ranks. Assassins is the strongest vocation among them all
What does it do?:
Tank is a more tankable version of guardians. They have 35% more health gain per level but 50% less strength in overall. They are the weakest vocation but the most surviveable aswell
What does it do?:
Runesmith is the type of vocation who starts with 185 hp/0 mana. But the thing about Runesmith is that they dont get hp! They only get mana..
Runesmith starts out with one spell, a wave. To get new spells they need to get 10 spell tokens and type !conjure as this chooses a rune randomly from 14 different options.
In InsanityOT you can upgrade your gear by collecting dusts that bosses drops, as you progress through the game the bosses become more difficult and pieces of gear will require more upgraders aswell. There is currently about 50 full sets ingame that is obtainable ingame and about 20 different pocket items which gives you bonus health/mana and magic levels.
Equipment on InsanityOT is based on magic levels, bonus stats, regeneration and protection. Gathering the right gear will make your character unimaginably powerful so spending your time getting the right gear is absolutely worth it and a necessity.

Here in InsanityOT you will reach very high amounts of prestiges, in previous versions of InsanityOT a person with very high prestiges would be someone with 50.000 prestiges, but since then the numbers are much lower than that. In this version of InsanityOT a person with a lot of prestiges is someone with 5.000, this change is to make it a little more comprehensive for the player and more do-able.
Experience is based on your prestige so as you progress through the game and get really high up there in prestiges then the progress of leveling up will also slow down slightly.
As you reach a certain prestige treshold you get a special rank assigned to you with a nice effect, there is currently 10 different prestige ranks ingame and each one will give you new spells and/or items.
Here at InsanityOT you get the choice to hunt whatever monster you want, there is no level restriction stopping you from hunting a certain monster. The only restrictions there is ingame for this is for some bosses late game, there is over 100+ hunting monsters that you can choose from and about 50+ bosses ingame that drop recipes for equipment, special items or runes.​
In Insanity OT each boss 50k+ level has a chance to drop a special rune. This rune deals more damage upon your magic level and prestige. The higher prestige you get and the higher magic level you get you also get stronger.
​