Second edition starts soon


This is how it was last time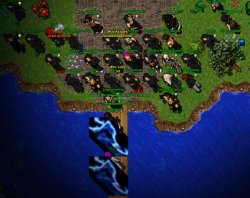 EXODIS.EU - SECOND EDITION!
WHEN? - 18TH OF SEPTEMBER

WHAT TIME? - 6 PM

(account creation: ON)
Every player that will create account and character before: 15/09/2020 will receive 50 Premium Points at the start-up
( Please note it will apply only for 1 PC per person )

Server: Website
Facebook: Fanpage

Some basic information:
IP: EXODIS.EU
PORT: 7171
MAP: CUSTOM(70MB) YOU CAN CHECK THE WHOLE MAP AND SPAWNS HERE:
EXODIS INTERACTIVE MAP

WORLD: PVP
WAR SYSTEM: YES
CASTLEWAR: YES
Please note, we have added some custom sprites, so you need to download our Exodis Client from the Download section before loggin in.
​




GAMEPLAY BALANCE & PVP BALANCE: YOU HAVE NEVER SEEN BETTER BALANCE!

More general information you can find: Server Info

Are you tired of searching new playable 8.6 server? No right place to play? All servers around are based on Real Map and staying alive 1 month? At 18th of September its gonna change!

There are waiting for you guys completly revamped old arenas aswell as many new hunting places, to not get bored 2fast!
We thought it would be nice to introduce some old school into 8.6 version, so we decided to change few things like this:
We've removed protection zone (PZ) from boats
Magical vocations (Sorcerers & Druids) will do more DMG with spells when they're higher LEVEL(normally only magic level matters)
The weight of POTIONS & RUNES was increased, to avoid players hunting 24/7 without refill
Here are some of the basic quests on Exodis, known well to old players. You can see level of difficulty on the server page, clicking on any player.
Beginner
Djinn Blade
Behemoth
Annihilator
Ankh Undead
Demon Helmet
Inquisition
Pits of Inferno
Thunderbomber
Pits of Insanity
Bomber
Demon Oak
Old Cape
Hell Annihilator
Some old movies and screenshots to remind how it was.



Hope to see you guys there!
​