Joined

Apr 14, 2013
Messages

403
Solutions

23
Reaction score

184
Location

​
Finally, my one-man project has entered the beta phase, I have been working on it a lot of time, in the meantime migrating from 0.3.8 to 1.2.
I am constantly working on exchanging graphics for my own, balance and systems.
I decided to start the beta version, because players and their opinions are needed for further testing and making changes.
The first 100 levels are like an introduction to the game, learning the mechanics and general operation of the game, utility items, playing and gaining experience is easy etc. At this stage, we actually use the basic equipment, and the entire content of the game is blocked before reaching level 100.
After gaining level 100, the proper game begins, gaining experience is more difficult and requires a party (One of the factors against botting), monsters start looting items of different rarity, PvP becomes active and many others.
Many systems in the game are not active and will be activated gradually during the beta when there are no problems.
1.
We always start the game through the patcher, the game is updated almost every day and to avoid crashes, it is required to watch for updates.
2. Gameplay is
FULL CUSTOM!!
3. Several spells are in the final stages, some are temporary as fulfillment. (The site has a list of spells for the class)
4. Waypoints System
5. Upgrade System
6. Card Slot System
7. No monster block
8. No Party DMG and Big Share Area
9. Real RPG (No "New-Era-RPG" Balances, where difference of clasess is only it name and spell animation)
10. 6 Classes, Tank, Healer, Melee DPS, Range DPS, 2 Mage DPS
11. NPC "On-Click"
12. No trash loot etc.
13. Alots to reveal
14. No carrying by the hand
15. Spells damage depends on Level, Skills and weapon DMG
16. 1:1 Damage/Armor formula
More info on site.
This is early access and you should expect reboots during the day to implement changes.
Dont expect full content during the beta.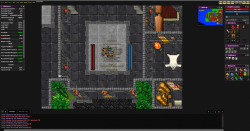 I will post information about patches here, everything will be hidden in spoilers, you can expand and read what interests you.
PATCH 1.17
Fixed Epitaph Event, now everyone who attack boss will earn the event prize.
Add Treasure Room, a event room that needs a ticket to enter, there is 7 waves of monsters who drop large amount of money. You have 1 minute to clear it, before you will been automatically teleported outside. You can get one ticket everyday from Daily Rewards, still thinking abotu other ways to get it.
Fixed Upgrade Class, now when you reach Master, Demigod and God grade of class you spells damage is increased
Appertience 1-99 (100%)
Master 100-144 (115%)
Demigod 145-169 (130%)
God 170-185 (150%)
Blacksmith Box now drop only "Upgrade Material", random value of 1-10
Add Card Box, this box drop Rainbow Slot Card and Card Remover, random value of 1-3
In tests, problem with houses
Fixed Class Upgrade Damage (caused problem with monster attack) Everything work fine now.
Fixed House problems, thats dont clear items from ground when player have no money for rent, and send copy of it to depot.
Deleted "Letter" spam of rent house reminder.
Fixed Treasure Room entrace
Add extra chance of Soul Shard Essence (1000 Soul Shards) in Epitaph
Treasure Room Ticket obtainable from Daily Reward
Last edited: